Tech Tycoon Charged With Assault For Brutal Beating Of Reality TV Star Ariane Bellamar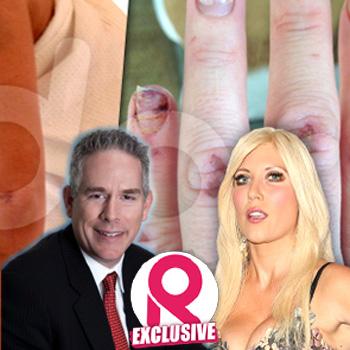 The tech tycoon who allegedly beat Beverly Hills Nannies star Ariane Bellamar during the Sundance Film Festival in Utah has been charged with assault, RadarOnline.com is reporting.
Patrick Henry — the high-powered CEO of Entropic Communications — was charged with 3 counts including assault, damage of a communication device and criminal mischief, all Class B Misdemeanors that could land him up to one year in jail.
Article continues below advertisement
As Radar exclusively reported last month, Henry and Bellamar too a romantic getaway to Utah but things took a turn for the worse on Jan. 23 after Henry had too much to drink.
"I was woken up by Patrick dragging me by the hair and throwing me into the garage. He was screaming at me, accusing me of deliberately locking him out of the house," Bellamar exclusively told Radar, explaining what happened when Henry arrived back at the cabin they were sharing.
"He then proceeded to throw me multiple times into the concrete walls of the garage," she said. "I am bloodied and bruised all up and down my left side of my body and… right side. It was terrifying."
Radar obtained exclusive and shocking photos of Bellamar's alleged injuries from that night.
During the altercation Henry allegedly grabbed Bellamar's cell phone and threw it against a wall, totaling it — the same cell phone he'd previously been sexting with her on, sending her shirtless photos of himself, bragging "If we hit it off, maybe I'll manhandle you ;)"
Article continues below advertisement
Bellamar told Radar of the incident, "I was in total shock, crying and shaking uncontrollably. He yelled at me to shut up again. When I couldn't stop, he turned the lights on, ripped the covers off, and demanded I leave. I was in so much pain and shock I couldn't respond. He then called the police saying that I wouldn't leave."
Henry, 51, was charged in Utah and a pretrial conference is scheduled for March 18.
UPDATE - 2:03 p.m. PT: A spokesperson for Henry's company, Entropic Communications, tells Radar in an exclusive statement, "Entropic is aware of the personal matter concerning Patrick Henry. The Company's Board of Directors continues to review the situation and does not intend to comment further at this time."