Exclusive
O.J. Simpson's Daughter Sydney Is So 'Strong' But 'Scared' To Share Her Story -- Her Ex Speaks Out About Her Life 20 Years After The Murder PLUS Who She Really Thinks Killed Her Mom Nicole Brown Simpson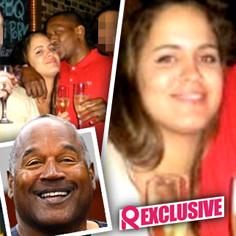 Sydney Brooke Simpson was just eight years old on that fateful day twenty years ago when her mother, Nicole Brown Simpson was found dead, and her father, O.J. Simpson was named the primary suspect. Through all the ups and downs of the trials and her father's ongoing legal issues, she's managed to build a life for herself outside of the spotlight and now, on the anniversary of the murder, her ex-boyfriend is speaking out exclusively to RadarOnline.com about the "strong" woman she's become — and whether she thinks her dad is guilty of killing her mother.
Article continues below advertisement
"Sydney is a real good girl and she has a good head on her shoulders," Stuart Alexander Lee, who dated Sydney from roughly 2007 to 2012 tells RadarOnline.com exclusively. "She's not lazy. She works very hard."
After graduating from Boston University, where she met Lee, the couple moved to Atlanta, where she began working as an events coordinator at luxurious Atlanta restaurant The Canoe. And Lee says that during their relationship, she told him she had no intention of endangering her normal life by speaking out about her dad and the murders.
"She doesn't understand that her story could help someone else," Lee says. "When I was with her, I got friends in the industry I tried to set her up with and she said fame is a scary thing. It's so real to tell your side of the story."
"Everybody contacts her to speak out," he claims. "She could be an inspiration to so many people, but she's scared. She doesn't understand. Hopefully one day she will."
Article continues below advertisement
But in private, he says, "She talked about the murders, of course. Of course she talked about it. The way she feels, she doesn't feel like he did it."
"They speculate that it was a drug deal gone bad," Lee says. "May she rest in peace, but Nicole's throat was cut like a Colombian necktie. Sydney doesn't believe O.J. did it, but she doesn't know what to believe. The media changes, and how the police changed the whole situation… Either way, her mother died."
And Sydney's brother, Justin, lost a mom too, but today, "He's also doing good," Lee says. "He graduated from college. And Sydney's older brother, Jason, he's doing good. He's a chef. They're a very successful family!"
"I had plenty of conversations with them telling them to confront the media," he reveals. "They're letting their dad sit in prison for nothing!"
"And he's a good father from behind bars," Lee insists. "They all still love him very much. They go out and visit him, and he calls them all the time and they talk together all the time. He's a father. He's a good guy. I don't think he did it."
Article continues below advertisement
Lee and Sydney broke up because of the increasing demands of his music career, but he says, "There's no hard feelings on either side. I want to see her happy, and if this can motivate her to speak out, I hope it really does. My whole thing is, I was always tired of her and her brothers and sisters crying over spilled milk. You can't let the world beat you up, especially when you didn't ask to be here."
"I know that if she decided to speak out she could be in a better position," he says. "She's a good-looking girl, the whole nine. She's hella strong."