Exclusive
In The Dog House! PETA Slams Lady Gaga For Dressing Her Pet In Clip-On Earrings — Has 'Cruel' & 'Inhumane' Star Gone Too Far?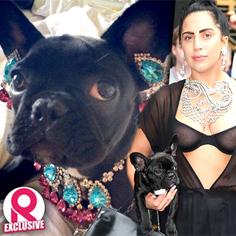 Is mother monster a bad mom to her four-legged baby? Lady Gaga shocked fans this week when she posted a series of photos of her French bulldog, Asia, covered in jewelry and clip-on earring. As commenters blast her "cruel" and "inhumane" behavior, a rep for PETA has spoken out to RadarOnline.com exclusively to condemn her fashion decision.
The photos, posted on Instagram on June 18, quickly elicited response from puppy-loving fans.
Article continues below advertisement
"That's cruel," @caitlinmio1 wrote.
Twitter user @Clayerxo chimed in, "Lady Gaga is so cruel to her dog, putting things on its face and all makes me sick!"
"I would never do that to my pup," @Officialmrod wrote, calling the look "inhumane."
And now, a rep for PETA tells Radar exclusively that the singer should think twice about dressing up her pup in the future.
"Lady Gaga may choose to decorate herself with elaborate and even uncomfortable outfits, but Asia doesn't get to make that choice," PETA Senior Vice President of Cruelty Investigations Department, Daphna Nachminovitch told Radar. "Although it seems pretty clear that Lady Gaga loves Asia, we think Asia — and all dogs — are adorable without all the added flair, and that the best accessory for any dog is a comfortable, secure, well-fitting harness, which is perfect for long walks together."
As Radar has reported, this is not the first time that Gaga has run afoul of animal rights activists.
In September 2012, a PETA rep said Gaga "has no heart" after she was spotted wearing a fox head fur scarf.
And one month before that, they slammed her for stepping out in a pink fur jacket.
Do you think Gaga crossed the line or was her puppy fashion show all in good fun? Let us know in the comments!