Exclusive
Pregnant And Imprisoned: Michael Lohan's Expectant Baby Mama Kate Major Claims She's Suffering 'Cruel And Inhumane' Treatment Behind Bars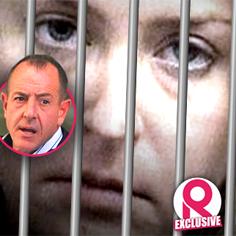 Michael Lohan's incarcerated girlfriend Kate Major is three-and-a-half months pregnant with their second child— but the couple is far from overjoyed.
RadarOnline.com can exclusively report that Lohan and Major believe she could lose the baby or even die due to her Florida prison's horrific conditions.
A rep for the legally-embattled 31-year-old— who claims to be experiencing a high-risk pregnancy due to a seizure condition, a heart condition and high blood pressure— tells RadarOnline.com that Major was moved from Belle Glade Jail to Gun Club Road Jail in Palm Beach County, where staff have failed to provide her with proper medications and a suitable living space.
Article continues below advertisement
"In the last two days, Kate has only received 300 milligrams of the 1200 milligrams of seizure medication she's supposed to get daily," the rep alleges. "They have Kate in a box in solitary confinement. There are feces on the wall and the floor. There is no panic button in the cell in case she has a seizure."
"This is cruel and inhumane treatment. Kate is at very high risk and she can lose the baby, seizure and even die."
Major is serving eight months in jail for violating probation after a boozy fight with Lohan and a subsequent DUI arrest in March. Her rep says she has approximately 90 days left of her sentence.
Baby daddy Lohan, 54, says he's outraged about his girlfriend's suffering.
"Kate is in horrible conditions," Lohan tells RadarOnline.com exclusively. "She hasn't showered in four days. The vent in her cell has mold, and every time the air turns on the mold pieces fall into her cell. She has bruises on her back because she is sleeping on a plastic bed with a thin mattress."
Article continues below advertisement
Now, the mad dad is taking action.
"I called the governor, I'm calling my senators and I'm organizing a protest tomorrow outside the court house," Lindsay Lohan's father says. "We have an emergency hearing on Tuesday. The least the judge could do is let her out of jail to have the baby, and then she can go back and finish her sentence after she's given birth. "
Lohan says he's also contacted Miami power lawyer Jose Baez about representation.
"I am in the process of hiring an attorney to look into filing a lawsuit about Kate's situation," he says.
Gossip Extra first reported news of Major's pregnancy.
Lohan has had custody of the couple's 16-month-old son, Landon, since Major's incarceration.