Exclusive
'Hypocrite!' Bronx Fans Slam Jennifer Lopez For Shunning Locals — Concert Epic Fail With Only Half Seats Full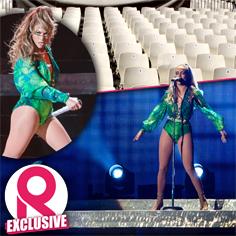 If Jennifer Lopez is still Jenny from the Block, she's hanging on a different block these days. As the singer makes a supposedly triumphant return to her home borough of the Bronx, only RadarOnline.com has all the details of how her Hollywood diva behavior has angered locals, who claim their former homegirl is a "hypocrite" for shunning her former neighborhood — and how they showed their anger by boycotting her concert!
Article continues below advertisement
Much was made of 44-year-old Lopez's first-ever concert in the Bronx on Wednesday night, but RadarOnline.com has learned it was far from a homecoming. In fact, instead of staying in her former hood, she opted for posh digs miles away in Manhattan!
"J. Lo definitely wasn't staying in the Bronx," an insider tells RadarOnline.com. "Instead, she got an apartment in Chelsea. She's such a hypocrite."
And her former neighbors seemed to agree. "She's been making all this money on the Bronx but she doesn't even help ou the neighborhood," local Matthew McNally told the New York Post. "Most of the people I know think she's a sellout."
Justin McGinn added, " . . . I don't think she's done enough for the community….Locals feel like she's a sellout and she took too long to come back."
In fact, according to the Post, of 25,000 free tickets issued, "well under half the expected number of fans showed up."
Do you think Lopez is a sellout or true to her roots? Let us know in the comments!