Hollywood's Biggest Hypocrites? Buddhists Sting & Trudie Styler Own $27M Penthouse With Full-Time Staff, Claims New Tell-All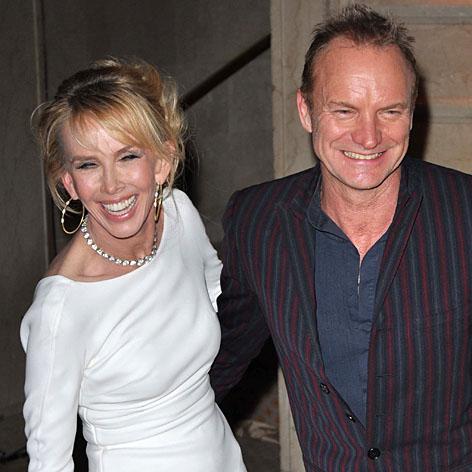 Are Sting and Trudie Styler Hollywood's biggest hypocrites? A new tell-all is lifting the lid on their life of luxury in a $27 million New York penthouse, suggesting that the avowed Buddhists and eco-activists aren't exactly practicing what they preach.
The couple paid $27 million for a penthouse apartment at Fifteen Central Park West back in 2008. And according to a new book on the property, House of Outrageous Fortune, they've certainly been living the high life.
Article continues below advertisement
Despite the fact that Buddhism teaches followers to eschew worldy possessions, the rocker and his wife "has a private chef, three or four assistants all day long who handle everything" a building employee told author Michael Gross.
"You can tell how demanding the owners are by how their household staff acts," the source said.
Their home has been known to host over-the-top parties, like Sting's 60th birthday bash in 2011, when Lady Gaga, Robert DeNiro, Robert Downey Jr., Tom Hanks, Bruce Springsteen, and Jake Gyllenhaal snacked on cake and champagne on terraces overlooking Central Park.
In all, it seems, their lifestyle doesn't really match up with their beliefs -- and they know it.
Styler has admitted that the couple have a carbon footprint estimated to be 30 times greater than their average countryman in the UK. She admitted, "When it comes to the carbon footprint, Sting puts his hand up immediately and says, 'I'm a musician and I have a huge carbon footprint.' Are we being hypocritical?"
She continued, "He has a 750-person crew to bring around the world and it is a difficult challenge. I would like to think that we both work pretty hard for the rights of indigenous people and for the rights of the conservation of the Amazon rainforest, but we do need to get around. It's a difficult one."
Do you think that Sting and Styler are hypocrites or doing the best they can? Let us know in the comments!