PHOTOS: Sting's Flirty Embrace With Bikini Clad Beauty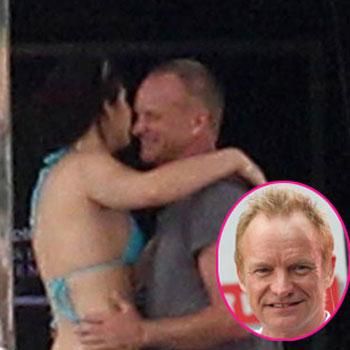 For years he's boasted of his hot and heavy sex life with his wife, Trudie Styler, but Sting appeared to be getting his kicks elsewhere during a recent trip away and RadarOnline.com has the flirty photos.
The British singer certainly wasn't praticing the art of tantric sex as he got up close and personal with a bikini babe, aboard businessman, James Packer's yacht in Australia.
With his arms wrapped around the slim brunette, the 59-year-old - who is currently touring Australia and New Zealand - danced on the ship's deck with a huge grin on his face.
Article continues below advertisement
However despite his cuddly encounter Sting claims his bedroom antics with his wife of 30-years are as rampant as ever.
"When we see each other, it's romance," he told Harper's Bazaar magazine. "I don't think pedestrian sex is very interesting. There's a playfulness we have; I like the theatre of sex. I like to look good. I like her to dress up. I like to dress her up."
RELATED STORIES: