Exclusive
'A Pack Of Lies!' New Tell-All Reveals The TRUE Story Of Hillary Clinton's Scary Fainting Spell — And Why She'll Be 'Closely Monitored' By Docs For Life!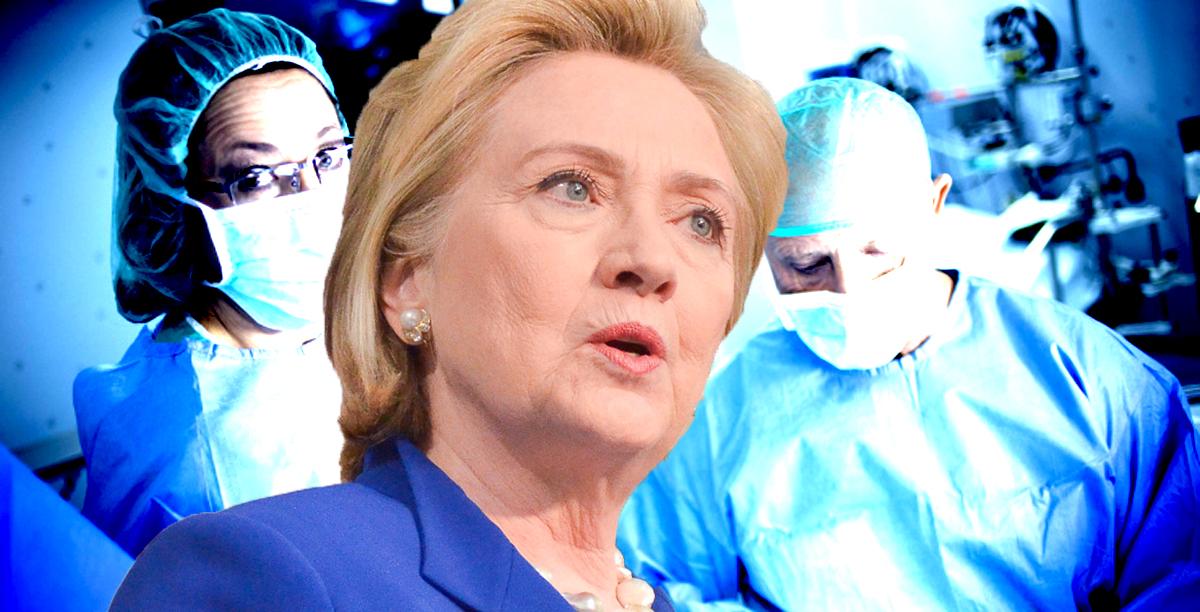 With Hillary Clinton's presidential nomination approaching inevitability even before she admits she's running, pundits are already speculating about what hidden secrets could bring down her full-speed trip to the White House. Karl Rove recently cited her scary 2012 fainting spell as evidence her health might not be up to the toughest job in the nation, and now an explosive new tell-all is tearing the lid off of her medical secrets once and for all. Blood Feud, by Edward Klein, claims to reveal the true story of what happened before, during, and after Hillary's medical emergency — and why her team scramble to keep it a secret.
Article continues below advertisement
"According to the version of events that Hillary's camp fed the media, Hillary had been alone at home in Washington, D.C. when she succumbed to a stomach virus, which she had contracted during a trip to Europe. The virus, he said, led to extreme dehydration and caused Hillary to faint and strike her head."
According to Klein, however, "It turned out to be a pack of lies."
While Klein does not dispute that Hillary did faint, he claims it happened "while she was working in her seventh-floor office at the State Department, not at home … She was treated at the State Department's infirmary, and then, at her own insistence, taken to her home to recover."
"While she was at the hospital, doctors diagnosed Hillary with several problems," he writes. "He had a right transverse venous thrombosis, or a blood clot between her brain and skull," a common ailment in those who fly frequently.
"To make matters worse, it turned out Hillary had an intrinsic tendency to form clots and faint," Klein claims, citing similar incidents in Buffalo and Yemen years before.
Article continues below advertisement
"She also suffered from a thyroid condition," Klein writes, "…and her fainting spells indicated there was an underlying heart problem as well. A cardiac stress test indicated that her heart rhythm and heart valves were not pumping in a steady way."
Klein claims that doctors "considered performing valve-replacement surgery" but "ultimately decided against it."
"Still, before they released Hillary from the hospital," he claims, "they warned Bill Clinton: 'She has to be carefully monitored for the rest of her life.'"
Once his wife was out of the woods, Klein claims Bill went on a rampage against her staff for what he perceived as a mismanaged PR "disaster" on their part.
Bill "was furious .. For the cock-and-bull story Hillary's camp fabricated about a stomach virus and dehydration," Klein writes, "which, Bill said, sounded implausible and naturally led to all kinds of conspiracy theories."
Indeed, nearly two years later pundits like Karl Rove continue to speculate that the incident was much more serious than the Clintons initially let on, with some claiming that Hillary's medical problems could put a stop to her presidential ambitions.
Whose story do you believe? Let us know in the comments!