Obama Is An 'Incompetent' 'Joke' Whose 'Word Isn't Worth Sh*t!' New Tell-All Book Claims Hillary Clinton Secretly Bashed Barack During Booze-Fueled Chatfest With Inner Circle -- Read The Unbelievable Insults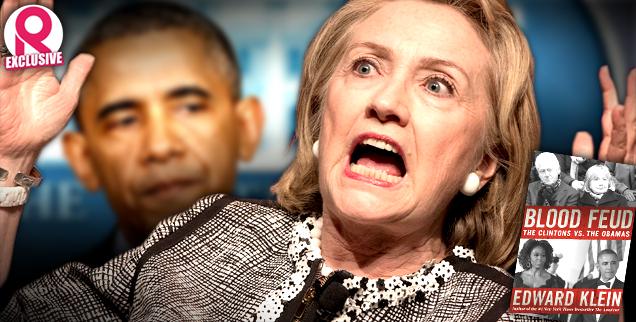 Barack Obama and Hillary Clinton apparently put bitter campaign trail clashes behind them when the President made Bill Clinton's wife Secretary of State for his second administration in 2009. But according to an explosive new tell-all, it was a totally different story behind the scenes! Blood Feud: The Clintons vs. The Obamas claims Clinton bashed the President during a booze-fueled chat fest with her friends, and only RadarOnline.com has all the details!
Article continues below advertisement
According to author Edward Klein, Hillary let loose during a May 2013 get-together with college buddies at Le Jardin du Roi, a French restaurant in Chappaqua, New York. As the wine flowed and the gossip flew, Klein claims Hillary let fly with her true feelings on Obama for the first time— and it was not pretty.
"When her friends asked Hillary to tell them what she thought — really thought — about the president she had served for four draining years, she lit into Obama with a passion that surprised them all," Klein wrote.
"'Obama has turned into a joke,' she said sharply," according to the book. "The IRS targeting the Tea Party, the Justice Department's seizure of AP phone records and James Rosen's emails — all these scandals. Obama's allowed his hatred for his enemies to screw him the way Nixon did.'"
According to Klein, "She went on to explain that Bill was a natural leader and great executive, unlike Obama, who was in her words 'incompetent and feckless.' …'The thing with Obama is that he can't be bothered and there is no hand on the tiller half the time,' she said. 'That's the story of the Obama presidency. No hand on the f*cking tiller.'"
Article continues below advertisement
"She took another sip of wine, thought for a moment, and then continued, 'And you can't trust the motherf*cker,'" Klein writes. "'Obama has treated Bill and me incredibly shabbily. And we're angry. We tried to strike a deal with him. We promised to support him when he ran for reelection, and, in return, he'd support me in 2016. He agreed to the arrangement but then he reneged on the deal. His word isn't worth sh*t. The bad blood between us is just too much to overcome."
The enmity went both ways, according to Klein, who claims the Obama camp branded Hillary "Hildebeest" in return.
Neither side has commented on the tell-all.
Are you Team Clinton or Team Obama? Or neither? Let us know in the comments!