While Michelle Is Away, Barack Will Play? Prez Obama Distracted By Holland's Queen Maxima In The Hague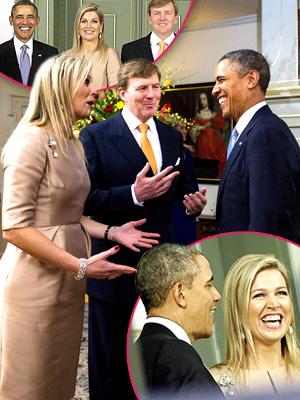 Michelle Obama seems to rule the First Family with an iron fist, but while she's away on a Spring Break trip with her daughters her husband, President Barack Obama, seemed to get a bit distracted by Holland's Queen Maxima and RadarOnline.com has the photos of their flirty exchange.
The 40-year-old blonde greeted the President of the United States, 52, at the Nuclear Security Summit in The Hague where the President was photographed laughing and talking with her royal highness, along with the47-year-old UK Prime Minister David Cameron.
Article continues below advertisement
Photos Of President Obama and Queen Maxima Laughing Together At The Hague
The First Lady, 50 is visiting China on a trip with Malia, 15, and Sasha, 12, where they've been tourists at the Great Wall while dad was hobnobbing with Dutch royalty.
Similar to Kate Middleton, Queen Maxima was born a commoner, and the Argentinian ascended the throne when her mother-in-law, Queen Beatrix, abdicated in 2013 and her husband, Willem-Alexander, 46, became King.