Exclusive
Disgraced Ex-Clippers Owner Donald Sterling Accuses Doctor Who Diagnosed Him With Alzheimer's Disease Of DRINKING During The Examination!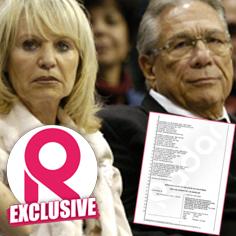 Donald Sterling is at war with his estranged wife Shelly over the fate of the Los Angeles Clippers.
The disgraced former team owner, 80, claims in court documents obtained exclusively by RadarOnline.com that Shelly did not follow the procedures to properly remove him as a co-trustee of the family trust.
"The evidence will clearly establish that the specific requirements set forth in the Sterling Family Trust were not followed by Shelly, or Drs. Platzer and Spar, and that Shelly has not removed her husband from his co-trusteeship," Donald's attorneys allege in the Los Angeles court documents.
Article continues below advertisement
In one example, attorneys claim Shelly called upon a doctor to examine her husband's capacity to manage the trust without informing him about the purpose of the appointment.
READ: Opposition To Memorandum Regarding Scope Of Evidence
"On May 19, 2012, Dr. Meril S. Platzer purportedly examined Donald at his Beverly Hills home," state legal documents filed by Donald's lawyers. "Dr. Platzer never inquired if Donald understood the nature of their meeting. She also never inquired if Donald was aware why she was there...Shelly intentionally failed to disclose the purpose of the examination of Donald to gain a legal advantage over her husband."
Furthermore, attorneys allege that the professional examination took a social turn, as Dr. Platzer joined Donald, Shelly and at least two other people for cocktails at the Beverly Hills Hotel, located near the Sterling family home.
"It is unclear at what point the purported medical examination ceased and at what point a social interaction began, with the consumption of alcoholic beverages taking place. Dr. Platzer's letter does not specify if she reached any of her purported conclusions based on the exchange at the Beverly Hills Hotel after the consumption of alcoholic beverages," documents continue.
Article continues below advertisement
Shelly was able to utilize a clause in the Sterling family trust that stated if Donald was to become mentally or physically incapacitated, she would become his proxy and therefore could reach and agreement to sell the Clippers.
After the doctors' examinations, Donald was forced to turn over team ownership to his estranged wife, who has since agreed to sell the team to Microsoft chief executive Steve Ballmer for a staggering $2 billion.
"Donald would be more than willing to submit to a medical examination by a court appointed physician," an insider tells Radar. "In fact, he would prefer that because he is confident that he wouldn't be diagnosed with Alzheimer's Disease."
Up to his neck in legal woes, Sterling has refused to sign off on Shelly's deal with Ballmer.
A Los Angeles trial is scheduled to begin in the next several weeks to determine if Shelly has the legal right to sell the team.