Exclusive
It's War! Donald Sterling 'Ready To Do Battle' To Keep The L.A. Clippers, Claims Estranged Wife Shelly Tricked Him Into Meeting With Doctors Who Found Him Incompetent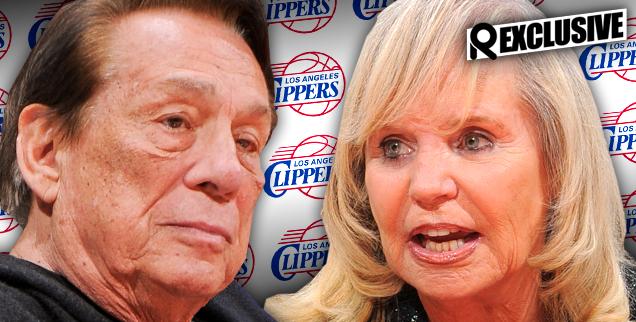 Embattled Los Angeles Clippers owner Donald Sterling is not going down without a fight. After two doctors submitted court documents claiming the real estate mogul was suffering from the onset of Alzheimer's disease, RadarOnline.com has learned that the real estate mogul is now claiming that his estranged wife, Shelly, tricked him into the consultations — and that "what is being done to him is illegal!"
Article continues below advertisement
A family insider tells RadarOnline.com, "Shelly came over to Donald's Beverly Hills mansion with two doctors in tow...she told him it was for a routine check-up. This happened in mid-May at the height of the racism comments scandal that Donald was engulfed in. The exam lasted less than 80 minutes, and he had no prior history with either the psychiatrist or the doctor."
"For both doctors to come to the conclusion that Donald is suffering from the onset of Alzheimer's after only one examination is outrageous," the insider said. "In Donald's opinion, this was obviously done so that Shelly could sell the team without his approval. In fact, when the exam was over, Donald took Shelly and the female psychiatrist across the street from his house to the Beverly Hills Hotel Polo Lounge for a drink!"
"Donald has vowed that he is going to fight the sale of the team, and will gladly consent to a court-approved medical examination," the insider continued. "People may not agree with what he has said, but he believes what is being done to him is illegal, and he is going to use every legal resource he has to do so."
"If that means taking this case all the way to the Supreme Court, he will do it. He has the money to do it, and he will," the insider said.
Article continues below advertisement
Shelly was able to utilize a clause in the Sterling family trust that stated if Donald was to become mentally or physically incapicitated, she would become his proxy, to reach an agreement to sell the Clippers.
After the doctors' examinations, the Los Angeles Clippers' owner was forced to turn over ownership to his wife, Shelly, who has since agreed to sell the team to Microsoft chief executive Steve Ballmer for an NBA-record of $2 billion.
Up to his neck in legal woes, Sterling also had also filed a $1-billion lawsuit which he had then decided to drop, and has refused to sign off on Shelly's deal with Ballmer.
The famously-litigious billionaire refuses to pay the $2.5 million fine league Commissioner Adam Silver imposed on him last month after banning him from the league for life, in the wake of his racist rants being leaked to the public.
A trial is scheduled to begin in Los Angeles in the next several weeks to determine if Shelly has the legal right to sell the team.
The source added, "Donald is getting ready to do battle. This is what he does best! He built his career on fighting to get what he wanted, and there is no way the Clippers will be taken away from him while he is alive, God willing. It doesn't matter to him that advertisers have pulled out from supporting the team. He has hundreds of millions of dollars to make up for that, and will have no problem making payroll."