Exclusive
Shamed Former Cincinnati Bengals Cheerleader's Defamation Lawsuit Tossed Out Against The Dirty Founder Nik Richie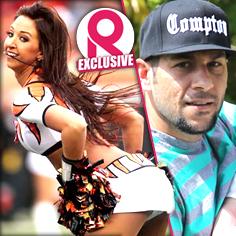 Article continues below advertisement
After suing Richie for $11 million, a jury awarded her $338,000, but the decision filed June 16, 2014 found in favor of Richie and he is no longer required to pay her any money.
"For the foregoing reasons, we vacate the judgment in favor of Jones and reverse the district court's denial of Dirty World's and Richie's motion for judgment as a matter of law with instructions to enter judgment as a matter of law in their favor," the court documents obtained by Radar state.
READ: Cincinatti Bengals Cheerleader vs. TheDirty.com Court Documents Here
Richie is reveling in the decision against Jones, whom he testified against during the trial, noting that he posted a picture of a check made out for $11 million to Sarah and put in the memo line "A Child Molester." The check he shared with Radar on Monday has the dollar amounts crossed out to read zero.
"My lawyer David Gingras called me at 6:33 am this morning," Richie exclusively told Radar.
"I was still asleep. I answered lying in bed as he yelled 'Nik we won. You saved the internet.' I walked to my bar, poured a shot of 1942 (breakfast of champions), took the shot to wake up. Then I opened my wallet and pulled out this check I wrote for Sarah Jones, corrected the dollar amount and went back to bed. Because this is America, home of the brave and land of the FREE."
Jones' testimony during the trial revealed details about her sordid relationship with a then 17-year-oldformer student, Cody York. She pleaded guilty to sex with an underage minor after their relationship became public. She has been engaged to York for over a year but they have not yet tied the knot.