Exclusive
Ex-Cincinnati Bengals Cheerleader Wins Lawsuit Against Blogger Who Called Her A Child Molester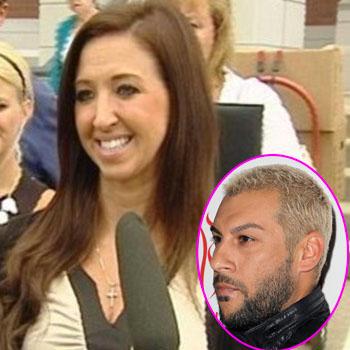 Sarah Jones, the shamed former Cincinnati Bengals cheerleader who was convicted of having sex with a minor won her lawsuit again TheDirty.com founder Nik Richie and a jury awarded her $338,000 in damages.
The 28-year-old said in her defamation lawsuit that two posts on Nik Richie's website claimed she had sex with multiple Bengals football players and that she had two sexually transmitted diseases.
She had sued Richie for $11 million and the jury in Covington, Kentucky found that the two posts were substantially false but only awarded her the $338,000 damages.
Article continues below advertisement
While on the stand, Nik testified that he posted a picture of a check made out for $11 million to Sarah and put in the memo line "A Child Molester."
He explained his reason for posting the check and why he wrote that on the memo line.
"Because I just wanted to get it out there that we were awarding a child molester."
Sarah's testimony during the trial revealed details about her sordid relationship with a then 17-year-oldformer student, Cody York. She pleaded guilty to sex with an underage minor after their relationship became public but she is now engaged to 19-year-old Cody.
According to WLWT.com the jury found Richie "acted with malice or reckless disregard in posting the submissions he said were anonymous."
Richie's attorney David Gingras told RadarOnline.com exclusively that they expected this verdict.
"You can't be that surprised if you knew anything about the judge. Our judge was an elderly, old decrepit gentleman appointed by President Jimmy Carter in the 1907s and he's been around a long time. He steered the case that this day was inevitable. A jury has to make a decision based on instructions from the judge and if those instructions are not correct the outcome is not correct and that is what happened here. The judge just completely disregarded the law that protects websites. He said that law doesn't apply here. That's like saying water isn't wet. The judge used his power to punish Nik."
Article continues below advertisement
But don't count Nik down and out. His attorney said he is planning to become the modern day Larry Flynt and will appeal the case to the 6th Circuit US Court of Appeal.
"In a year's time we will be back."
Gingras also said the amount awarded to Sarah was arbitrary.
"The posts on TheDirty did predate her sex crime we think but she went to great lengths to hide her crime. That was way before TheDirty.com.
"The posts on TheDirty didn't cause her to be fired. Nobody believed it. Absolutely not one thing changed. I don't connect the dots."
He said his rather unlikeable client was at a disadvantage in the courtroom.
"Sarah took advantage with her personal charm. She admitted to so many lies on the stand and I've never seen a jury buy that. I guess they believe that being rude is worse than lying."
Gingras says the fight isn't over.
"I don't expect this will survive 5 minutes in the appeal court."
Outside the courthouse Sarah addressed the cameras.
"I'm thankful for the jury that they took all the evidence into account today. Not everybody has the whole story and the jury was able to hear all the evidence."