Cheerleader Sarah Jones Engaged To Cody York, The Teen She Was Convicted Of Having Sex With When He Was Underage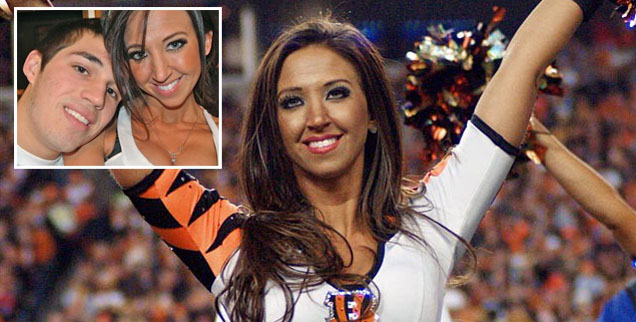 Sarah Jones, the Bengal Tigers cheerleader who became infamous for having illicit sex with a minor, is getting married. And her groom to be is none other than that very same teen, Cody York.
The stunning development was reported by the Cincinnati Enquirer, who said that the engagement occurred Thursday while the couple was in Florida with members of her family.
As RadarOnline.com previously reported, sexy Sarah was 27 when she admitted to having sex with the then-17-year-old York, who was a student at Dixie Height High School, where Jones also worked as a teacher.
Article continues below advertisement
As part of a plea deal that avoided jail time for Jones, last October she pleaded guilty to felony custodial interference and misdemeanor sexual misconduct for having sex with a student.
Jones is now 28 and works part-time as a paralegal for her attorney Eric Deters. York, now 19, is a college student.
"I fully support Sarah and Cody," Deters told the Cincinnati Enquirer. "And if they want to get married and live happily ever after or not, who knows? Nobody ever knows how marriage turns out. I wish them all the best."
Jones' defamation lawsuit against the website TheDirty -- which ended in a mistrial in January, is set to go forward with a new trial beginning in July.
Jones is suing the site for $11 million for two stories it posted about her in 2009.