Finding Love In A Hopeless Place? Andy Cohen Joins Dating App Tinder To Find His Match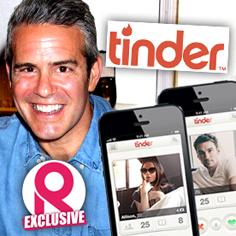 Who would've thought that a celebrity would have trouble finding love? Apparently fame doesn't guarantee a perfect match, though, as Andy Cohen officially has joined the dating application Tinder.
For those who have already found love, or maybe are avoiding online dating, Tinder is an application where people pretty much choose each other solely on looks — and maybe a witty "about me" blurb. Tinder matches people based on age range and distance that users determine in their profile.
Article continues below advertisement
Based on a user's preference, Tinder produces a bunch of "results" or people — each profile can hold up to six pictures and a short about me — and users swipe left (I'm not interested) or swipe right (I'm interested). If both parties happen to have swiped right, it's a match! If there's a match, the two parties can chat with each other.
Bravo's Watch What Happens Live host apparently has thrown caution to the wind, and hopes to find love on the app. During an interview with Larry King, Cohen demonstrated how the app worked and even "matched" with someone.
"He has a nice body," King said.
Dating must be on the 46-year-old's brain because now he is developing a new reality TV show, I Slept With A Celebrity, according to The Hollywood Reporter. Each week the show will follow two guests kissing and telling about their A-list walk of shame, from where they met to what they wore — or didn't wear — on the hot date.