Exclusive
One Direction Love For Kendall Jenner! 'She Wants Harry Styles Back' — But He's Not Interested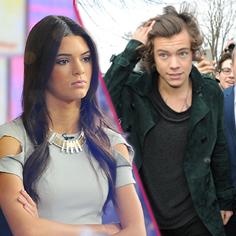 It's a case of One Direction love for Kendall Jenner!
The Keeping Up with the Kardashians star, who briefly dated One Direction singer Harry Styles, now "just can't get him out of her head" -- but he's no longer interested, RadarOnline.com has exclusively learned.
According to a source, 18-year-old model Jenner hasn't stopped phoning Styles, 20, "despite their romance fizzling out months ago."
After a dinner date last November, the two young stars hung out in Los Angeles and were spotted leaving a New York hotel together. Styles even reportedly kept up with the Kardashian family sister by spending the night at Kendall's dad Bruce Jenner's Malibu beach house!
Article continues below advertisement
REVEALED: 35 Secrets The Kardashians Want Hidden
Kendall and Styles apparently broke up after their PDA-laden good time together at the Coachella Music Festival in April.
"Now Kendall desperately wants him back," the source revealed. "She loved the attention dating Harry gave her, plus she really fell for him big time."
Jenner showed she has a One Direction mind as she introduced the band 5 Seconds of Summer at the Billboard Music Awards. In her famous flub, Jenner sounded as if she was going to announce Styles' group instead!
They Really Did Say It! 50 Outrageous Kardashian Quotes
The source said Jenner misses Styles, even though the playboy boy bander, who has dated a long string of ladies, including singer Taylor Swift, couldn't care less.
"Kendall really opened up to him and he did nothing but use her. That hasn't stopped her from dreaming of a rematch and after a night out with the girls, she'll come home and start calling him," the source told Radar.
"Harry rarely takes her calls because he knows when he's pushed his luck when it comes to a woman's heart and Kendall's got it bad for him. He doesn't want to encourage her, but it's turning into an embarrassing situation – for both of them."