Exclusive
'Affluenza' Teen's Parents 'Set No Boundaries' With Him 'Drinking Alcohol & Taking Cocaine,' Claims Attorney Of Boy Injured In Booze-Fueled Joyride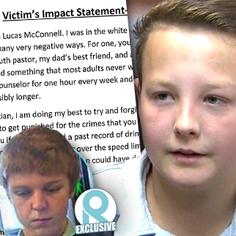 Not only did Ethan Couch kill four people during his drunken joyride last June, but he injured a 13-year-old boy whose family has filed a civil lawsuit against what their attorney calls "profoundly dysfunctional parents" who "improperly set no boundaries."
Lucas McConnell and his parents' attorney believe Couch's family and the 16-year-old's psychologist, Dr. Dick Miller, are guilty of "gross negligence," he tells RadarOnline.com in an exclusive interview.
Article continues below advertisement
As Radar previously reported, Texas judge R.H. Wallace Jr. recently ordered Dr. Miller to hand over his records of treatment and visits with Couch, which led to his infamous "affluenza" diagnosis.
"We are interested in receiving the documents because of their relevance in helping prove the elements of gross negligence we have alleged against the Couch family and their company Cleburne Sheet Metal. Dr. Miller has testified he saw all of them multiple times and treated Ethan Couch for a number of things," attorney Greg Coontz told Radar.
Article continues below advertisement
"Ethan Couch had used alcohol and drugs since he was thirteen years old. Fred and Tonya Couch knew Ethan had alcohol at their Burleson Retta home where he lived by himself without parental supervision at sixteen years of age. Ethan learned faulty rules – namely 'we have the gold, we make the rules,'" Coontz alleged.
"Fred and Tonya Couch's lack of action after the traffic stop where Ethan was found with alcohol and a half naked underaged intoxicated girl meant that all conditions were met for the June 15, 2013 tragedy to occur, it was just a matter of time. In fact, Ethan's criminal behavior, drinking alcohol and taking cocaine, increased afterwards," Coontz added.
McConnell did not suffer extensive physical injuries from the accident, but Coontz tells Radar he's "seen a counselor on a regular basis since the accident almost a year ago and continues to have nightmares about the event."
Radar has exclusively obtained McConnell's powerful Victim Impact Statement which was given to the court during Ethan's initial sentencing. The 13-year-old boy, whose family was close friends with Couch's family before the incident, says he's trying to forgive Ethan but wanted the maximum sentencing given.
Article continues below advertisement
"It would be easier to forgive you if you hadn't had a past record of drinking, been underage, and if you weren't going 30 miles an hour over the speed limit," McConnell wrote.
"I think that you deserve more than the maximum sentence of 20 years. While I think we should do our best at forgiving, I believe that if this situation is not handled with severity, you won't take it seriously."
Read McConnell's powerful Impact Statement in full below: Ethan's sentencing from Judge Jean Boyd of just 10 years probation and rehab sparked public outcry that even led to a petition in which on signee said, "This sentence is a slap in the face the families of those who were killed. He's sent to California to a spa-type center while the families of the victims get to go to cemetery."
What's more, as Radar reported on June 6, taxpayers are footing the bill for the teen's cushy $438,000 per year treatment.
"Recently a judge ruled that the teen should be sent to North Texas State Hospital in Vernon. The hospital's rehab program charges $700 a day, but since it is a partially state-funded institution, Couch's parents would only be charges $38 per day for their son's treatment," Breitbart contributor Kenneth Webster said.
"Thanks to taxpayers, Couch's rehab bill has been dropped from $438,000 annually to only $13,870."