Exclusive
New Hollywood Sex Scandal! Tom Cruise's Former Bodyguard Indicted For Multiple Counts Of Criminal Sexual Contact & Sexual Assault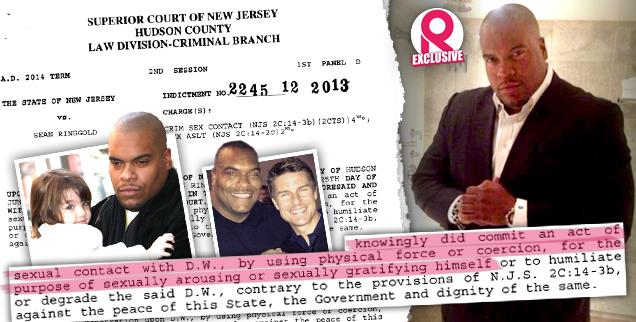 Article continues below advertisement
According to a copy of the indictment obtained by RadarOnline.com, a grand jury claims that Ringgold "knowingly did commit an act of sexual contact with the victim, by using physical force or coercion, for the sake of sexually arousing or sexually gratifying himself or to humiliate or degrade the victim" in two different cities, and "knowingly did commit an act of sexual penetration upon the victim, by using physical force or coercion."
READ The Disturbing Indictment Of Tom Cruise's Bodyguard
The next trial date, RadarOnline.com has learned, is May 12.
Criuse's former bodyguard, Ringgold was first accused of the charges last fall, when a New Jersey woman approached RadarOnline.com to expose the man she claimed sexually assaulted her.
"I have to make sure that he doesn't do this again to someone else," the woman — who RadarOnline.com chose not to name for considerations of safety – said in an interview. "What if it's just not me that he did this to? How many other girls could their be?"
Article continues below advertisement
The couple met for a friendly dinner date after being set up by friends on June 28 at a Secaucus, New Jersey, Olive Garden. But things quickly turned inappropriate, according to the woman, and she claimed he sexually assaulted her at the restaurant and on the way home.
According to the original criminal complaint obtained by RadarOnline.com, Ringgold allegedly did "commit criminal sexual contact … using physical force or coercion, specifically by pulling up the victim's shirt, grabbing her right breast and putting his mouth over her left breast while stopped at a traffic light inside of his motor vehicle."
Declining to get into specific detail about the still-horrifying attack, the woman claimed, "He pulled behind a building to finish the job."
As soon as she could escape, the woman said, "I immediately decided to press charges. The police knew within two days."
Notations on the criminal complaint show that Ringgold was arrested on July 2 and first appeared in court for the case on July 6.
When approached by RadarOnline.com last fall, Ringgold, a former star of One Life to Live, strenuously denied all claims.
"No way, that's out of control," Ringgold said. "This person is obviously crazy. I have soap fans, they are a little crazy."
Alluding to his famous clients, like Cruise, Queen Latifah, Ludacris and LL Cool J, Ringgold insisted, "The associations I have … you can really ask yourself that question. Do I look like I need to do that? It's saddening to hear."
Story developing.