Exclusive
Bodyguard-To-The Stars & Soap Star Sean Ringgold Facing Grand Jury Rape Investigation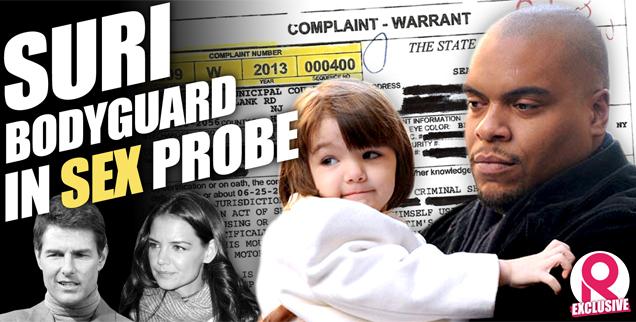 As bodyguard to Tom Cruise, Katie Holmes and Suri Cruise, soap actor turned muscle for hire Sean Ringgold was closer to the family than anyone else. Protecting their lives at every turn, he had access to them at their most intimate and vulnerable moments.
But RadarOnline.com has learned that the family's closest confidante may have been hiding a dark side: The Superior Court of New Jersey has commenced a grand jury investigation into allegations of rape against Cruise's former right-hand man.
Article continues below advertisement
Ringgold — who also once worked for LL Cool J and Queen Latifah — could face a charge of "criminal sexual contact" in Hudson County, New Jersey, if the grand jury decides to indict him, a court official has confirmed.
According to a subpoena obtained by RadarOnline.com, that grand jury is now under way, but Ringgold continues to deny any wrongdoing.
According to another court document in the case, a criminal complaint obtained by RadarOnline.com, the incident occurred on or around June 25, 2013.
Ringgold's alleged victim has spoken out exclusively to RadarOnline.com to expose the man she claims sexually assaulted her.
"I have to make sure that he doesn't do this again to someone else," the woman -- who we have chosen not to name for considerations of safety -- said in an interview. "What if it's just not me that he did this to? How many other girls could their be?"
The woman met Ringgold through mutual friends in the entertainment industry. "We were friendly and we knew each other and helped each other out when we could," she explains. "In June, he invited me out to dinner."
Article continues below advertisement
"It was supposed to be friends and business and talking," she says, "and it turned in to something that was not that at all."
On June 28, the duo met up at an Olive Garden in Seacaucus, New Jersey, where the woman claims that Ringgold sexually assaulted her after dinner, as well as on the ride home.
According to the criminal complaint obtained by RadarOnline.com, Ringgold allegedly did "commit criminal sexual contact … using physical force or coercion, specifically by pulling up the victim's shirt, grabbing her right breast and putting his mouth over her left breast while stopped at a traffic light inside of his motor vehicle."
Declining to get into specific detail about the still-horrifying attack, the woman claims, "He pulled behind a building to finish the job."
"I don't believe he drugged me, not at all," she says of that fateful night. "The thing is, he said all the right things being a predator. The things he said were supposed to in some way keep me off my guard. Looking back, he was so smooth I have to wonder if it's something he's done before."
Article continues below advertisement
As soon as the shock wore off, the woman was quick to take action. "I immediately decided to press charges," she says. "The police knew within two days."
Notations on the criminal complaint show that Ringgold was arrested on July 2 and first appeared in court for the case on July 6.
As the case continues through the grand jury investigation, the alleged victim is going to public to make sure that the world knows about what she says happened. "I really didn't want to do this," she says. "He thinks any publicity is good publicity. But now I'm ready to talk."
"My concern is all the traveling he does for work," she says. "If he travels and he meets somebody, how many other girls could there be? The world needs to know about this."
Ringgold's attorney, Robert Rowbotham, did not respond to a request for comment.
When approached by RadarOnline.com, Ringgold, a former star of One Life To Live, strenuously denied all claims.
"No way, that's out of control," Ringgold said. "This person is obviously crazy. I have soap fans, they are a little crazy."
Article continues below advertisement
Alluding to his famous clients, like Cruise, Queen Latifah, Ludacris and LL Cool J, Ringgold insisted, "The associations I have … you can really ask yourself that question. Do I look like I need to do that? It's saddening to hear."
The alleged victim, meanwhile, has moved into a safe location and says she has fears for her safety as well as that of her family.
"He is a big guy and he's somebody who was running around in the streets," she says. "I have not had any communication with him since the incident. I blocked him and changed my phone numbers and I'm moving to a safer location."
She continues, "I need to move on and heal without being trapped by what happened."