Exclusive
Soap Operas To Continue Airing Online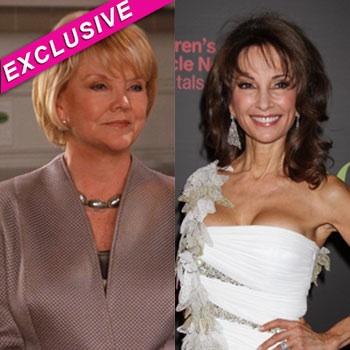 By Amber Goodhand - Radar Reporter
Fear not, iconic soap operas One Life to Live and All My Children will live on!
Although the two long-running daytime dramas were canceled from ABC's lineup and replaced by lifestyle programs, RadarOnline.com has learned they will continue to air on the Internet.
According to a press release, ABC has licensed the soap operas to online production specialists Prospect Park, enabling them to continue production beyond their life on television.
Article continues below advertisement
"Prospect Park will produce and deliver the two long-running programs to consumers via online formats and additional emerging platforms including Internet enabled television sets," the release states.
"Under the terms of the arrangement, the programs will continue to be delivered with the same quality and in the same format and length."
It's not just fans of the soap operas are excited the programs will continue - the cast and crew involved in the shows are celebrating as well.
"I'm just so happy that ABC found a home where the legacies of All My Children and One Life To Live can continue. I'm excited for their future with Prospect Park," creator of both shows, Agnes Nixon, said.
Also weighing in on the good news is Soap Opera Digest Senior Writer Robert Waldron, who told RadarOnline.com in an exclusive interview: "It's a great opportunity to see if there really is a life for daytime soaps beyond the traditional three networks they've long considered home.
Article continues below advertisement
"Soap fans are extremely loyal. They already buy the soap magazines, so paying an additional subscription fee to continue watching All My Children and One Life to Live shouldn't be a problem.
"The challenge will be to see if the older viewers are willing to follow their favorite soaps to the Internet."
ABC will broadcast its final episode of All My Children on Friday, September 23, and will air the final episode of One Life to Live in January, 2012.