Teen Mom Jenelle Evans Shares Her Favorite Things!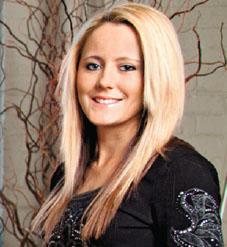 Teen Mom 2 star Jenelle Evans has her hands full, juggling school and a busy toddler. But the reality celeb took a few minutes to dish the songs, scents and sexy books at the top of her list!
FAVORITE BOOK:
Fifty Shades of Grey, by E.L. James, of course!
FAVORITE RECENT MOViE:
The Vow — it's so romantic.
FAVORITE RESTAURANT:
Olive Garden. Mmm, I go there all the time!
FAVORITE TV SHOW:
Pretty Little Liars — it's the best show on TV!
Article continues below advertisement
FAVORITE BEAUTY PRODUCT:
I love my hair soft and shiny, so I use Infusium 23 Leave-In Conditioner and Moroccanoil.
FAVORITE SONG On iTUNES:
"Ransom" by Drake, featuring Lil Wayne. I absolutely love it.
FAVORITE SCENTS:
Light Blue by Dolce & Gabbana, Angel by Victoria's Secret, Delicious Candy Juicy Apple by DKNY.