Littlest Victims: New Tell-All Reveals Susan Powell's Young Sons May Have Been Sexually Abused -- Is This Disturbing Drawing Proof?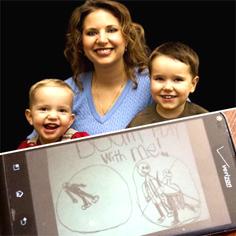 Article continues below advertisement
paternal grandfather, Steve, after their mother Susan mysteriously disappeared in December 2009.
"Of all the shocking things we uncovered about Susan's disappearance and its aftermath, what we learned about the boys is the most heart-wrenching," Morris tells RadarOnline.com.
RadarOnline.com can reveal that Olsen and Morris claim Charlie and Braden, who moved with their father from Utah to Washington after their mother vanished (Police believe Josh was responsible for Susan's disappearance), started acting strange when they moved in with their maternal grandparents, Chuck and Judy Cox, in 2011.
One night, while getting ready for bed, the boys refused to wear clothing, the authors say.
"Who told you its okay to be naked?" Olsen and Morris claim Chuck asked his grandsons.
"Our daddy!" they allege the children responded.
"A little while later, Chuck learned something else from Charlie. He and Braden slept naked with their father— and he was naked, too," the authors write.
And four days after his paternal grandfather was arrested on 14 counts of voyeurism, Braden had a physical examination, the authors claim. Doctors discovered the child had a rash called molluscum contagiosum, a common skin condition often transmitted sexually.
Article continues below advertisement
"The conclusion of the exam was that the possibility of sexual abuse could not be ruled out," Olsen and Morris write.
Shocking Stories You Didn't Believe But Turned Out To Be True
In an exclusive photo, RadarOnline.com can reveal that one of the boys drew a disturbing photo for Chuck, seemingly depicting a child and adult alone together with the words "Don't play with me!"
The boys began acting aggressively, as well— even with each other.
"That these little boys had been damaged by their father and grandfather is in little dispute," Olsen tells RadarOnline.com. "They almost never had a chance and that's what's really heartbreaking."