Exclusive
Under Konstruction … With No End In Sight! Inside Kim and Kanye's Never-Ending Mansion Renovation, Featuring A $750K 'Glam Room' And 'His & Hers Toilets'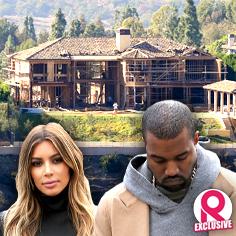 When Kim Kardashian and Kanye West say their "I do's" on May 24 in Paris, it won't quite be happily ever after — because the newlyweds won't have a home-sweet-home to come back to! The couple's Bel Air mansion has been under construction for more than a year, and RadarOnline.com has learned that it won't be ready any time soon. As building permit requests continue to flood in, only RadarOnline.com has all the details of the over-the-top, million-dollar upgrades being requested by the flashy future Mr. and Mrs. West!
Article continues below advertisement
Listed under a private trust, Kimye bought the 5-bedroom Bel Air estate in January 2013. But a $9 million, 9,000 square foot manse in one of the ritziest neighborhood's of L.A. just isn't good enough – or big enough! – to fit her growing family. Even though the gutted-out shell may look like a nightmare now, the reality star has big plans for her dream home.
According to records filed with the Los Angeles Department of Building and Safety and obtained by RadarOnline.com, those plans include a special room reserved for her infamous "glam squad," who — as RadarOnline.com has previously reported — are all paid thousands to be on call 24-7 for West's baby mama.
READ Kimye's Over-The-Top Building Plans
Now those late-night and early-morning beautification sessions will be easier to endure, since Kardashian is constructing her very own makeup room — aka "glam room" — with an aptly-named "glam bath" that she can access through metal doors from her master closet.
But looking good doesn't come cheap. The estimate for the room comes in at a whopping $750,000 — easily more than most people spend on an entire home.
Article continues below advertisement
And that's not all.
The power pair is getting rid of the old-world charm of the original digs in favor of their own flashy designer taste.
Inside the main house, they'll be able to accommodate plenty of family sleepovers with an extra bedroom, closet and bathroom.
Of course, the lady of the house won't have to clean it: There's also a new dedicated maid's bedroom, bathroom and extra powder room on the first floor.
And because they'll more than likely be playing host and hostess to 36-year-old West's BFFs Jay-Z and Beyonce at their housewarming, the new wine room and wet bar will come in handy.
After drinks, they'll be able to move things to the new music studio, located next to the existing library. Or, they might opt for a newly-built covered patio on the ground floor.
When they're not entertaining, Kardashian, 33, will be able to continue her sexy booty selfie spree inside the gym on the top floor, which comes complete with its own closet, bath and full-length mirror wall.
Article continues below advertisement
She'll also get a workout walking from wing to wing, since the couple is getting rid of the home's elevator, per the filed documents.
Up the curved staircase with a dome overhead is the master bedroom, separate sitting room, and fireplace with new built-in bench seating. And because the Vogue cover couple needs a place to hang their designer duds, there will be two separate his and hers closets.
The couple's theme continues in the bathroom, where there will be his and hers sinks — and his and hers toilets, too.
Baby North isn't left out when it comes to living in the lap of luxury. At a mere six months old, she's not too young to get her very own suite across the hall from mom and dad, featuring a walk-in closet for her own impressive wardrobe, a private bathroom and fun accents like dual-wall chalkboards.
Article continues below advertisement
Other fancy updates of the home include a new fireplace mantle in the living room, re-stained wood floors, new Balzac limestone floors, new wood, metal and glass doors throughout, new stone sinks and sconces, and tempered glass showers.
And because money is clearly no object, the young parents are gutting the existing chef's kitchen to add new cabinetry, countertops and backsplash, according to property records, for an estimated $30,000.
REVEALED: 35 Secrets The Kardashians Want Hidden
The coffered ceiling in the living room will also be replaced with a flat ceiling to go "as high as possible," per the couple's requests.
While the inside is sure to be spectacular when finished, it isn't the only space getting the designer touch. On the lush green grounds, the existing pool will be demolished and replaced with a huge, fenced-in 16-foot by 62-foot infinity pool with cabana, which will cost a pretty penny at $83,000.
Article continues below advertisement
The pool house will have a concrete recreational area with bluestone paving, a pergola, a bar, fire pit and planter boxes and olive trees lining the property from the circular motor court to the backyard.
Further afield, a three-car garage with lifts will safely house the West family's collection of fancy rides, and above that, a planned second-floor addition above the garage will feature a 374-square-foot covered patio.
Other exorbitant expenditures to remove square footage, add livable space, and enclose a 218-square-foot patio will cost an extra $30,000.
And to protect all those finer things only millions of dollars can buy, Kardashian and West are shelling out even more moolah on high-tech security, according to the docs. Who needs keys when Kimye can install VIP key card access?
In the meantime, however, West will have to tolerate living with his soon-to-be mother-in-law Kris Jenner for a while longer.
Do you think Kardashian and West deserve their dream home or is this simply too much? Let us know in the comments!