Exclusive
Insta-SHAM! Kim Kardashian's Butt Selfie Photos 'Were Manipulated' To Look Thinner — Experts REVEAL Shocking Proof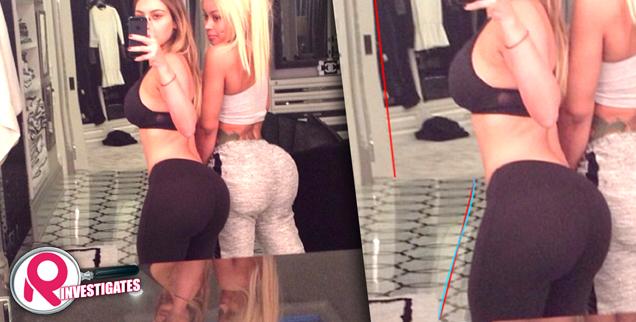 Kim Kardashian recently said that her post-baby body is the result of "no carbs, work out, dedication." But did she forget to say photoshop?
Multiple experts -- including famed Photoshop master Peeje T. -- tell RadarOnline.com exclusively that the workout pics she recently posted with BFF Blac Chyna have clearly been "manipulated."
And the photos themselves are the proof!
Instagram celebrity Peeje T., who has become famous for his own works of Photoshop art, tells Radar exclusively that the curved doorframe in Kim's pics is a dead giveaway.
Article continues below advertisement
"Now, before I begin, I must say this is all purely speculative, since I actually heard Kanye West might have brought curved doors to Ikea over six years ago," he jokes. Getting back to business, he explains, "In the first pic, which I'll call the Booty Pic, I have diagrammed with a red line how the door should look if it was a normal, straight-edged door. You can definitely see a gap at the same level as Kim's chest. This would be caused by using a tool to expand her breasts."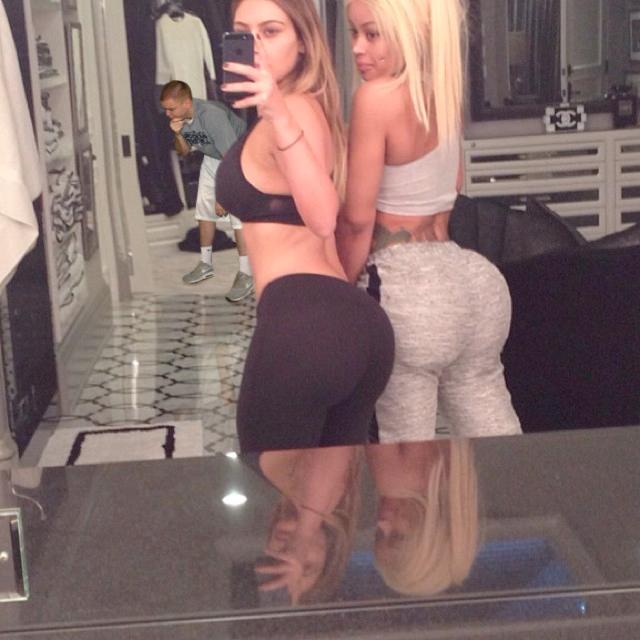 "There also seems to be a more subtle distortion on the floor," Peeje continues. "The underlying red line shows how the tiles should be where the blue line follow the actual markings on the floor. You might notice how it follows the same contortion as Kim's waist and hips."
"In the second pic, which I'll call the Stomach Pic, you will notice the door curves out at Kim's midsection," Peeje explains, which would occur if she pulled in her waistline.
Article continues below advertisement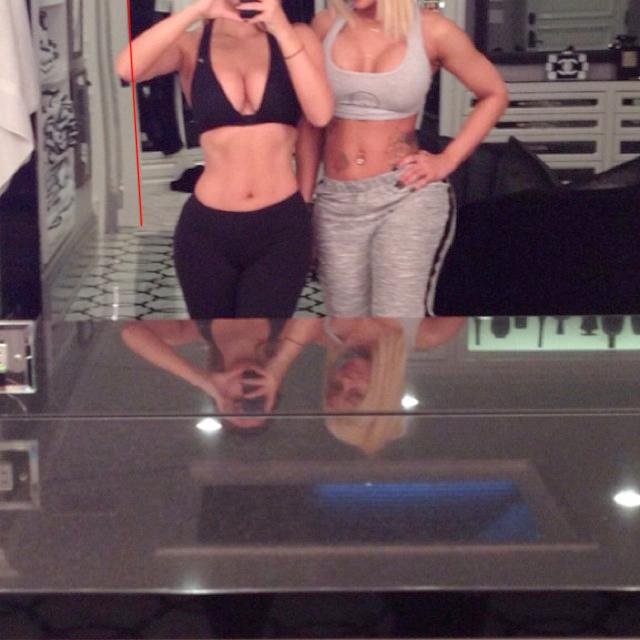 In fact, he points out, "The curvature of the door is actually different from the first picture!"
"If I can give any tips to Kim," the Photoshop pro, shown below in original creations from his Instagram, tells Radar, "I would tell her not to use any editing and be proud of that post-pregnancy body. Don't get me wrong though, if she really wants a little Photoshop done here and there, she can always give me a call. (PLEASE CALL ME.)"
"As far as Blac Chyna goes," he jokes, "everything looks natural to me ;)"
Video and photo production expert Devon Talbert of Devon T Productions examined the photos and came to similar conclusions.
HOT! 69 of the Sexiest Celebrity Instagram Selfies of All Time!
"Based on what I've seen, I'd have to say these photos were manipulated," he tells Radar exclusively.
Although cellphone cameras are known to have a slight distortion called "the jelly effect," he says, "This is clearly not the case with Kim's pictures."
"I did ask myself why Kim would go through all the trouble of importing her photo to photoshop to tweak it and then repost it as an Instagram," he says. "But then again, there are so many photo phone apps that I guess you're only a few swipes and pinch away from the perfect body at all times!"
This isn't the first time that Kardashian has been accused of digitally manipulating her famous curves. As Radar has reported, she faced similar criticism of her appearance in baby daddy West's "Bound 2" video, as well as a recent ad campaign.