Exclusive
How Romantic! Kim Kardashian & Kanye West's Wedding Guests Will Be Forced To Sign Confidentiality Agreement, Cell Phones Confiscated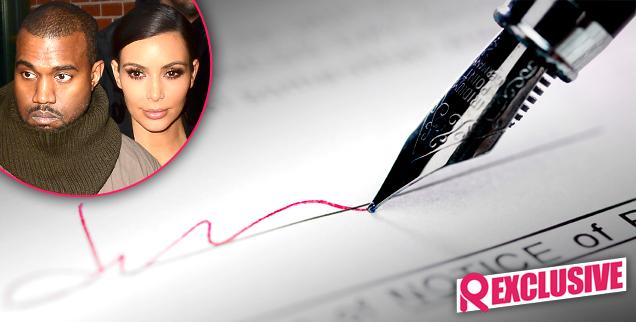 The only cameras rolling or taking photos at Kim Kardashian and Kanye West's wedding will be their own, because as RadarOnline.com has learned, guests who attend the star-studded I Do's will be forced to sign strict confidentiality agreements during which they'll agree not to discuss any details of the nuptials with the media.
What's more, cell phones will be strictly banned and confiscated if discovered!
Article continues below advertisement
The high-profile couple do not want a repeat of West's marriage proposal to Kardashian, which was leaked online by YouTube co-founder, Chad Hurley.
They Really Did Say It! 50 Outrageous Kardashian Quotes
"Guests will have to go through extensive security, even most of Kim and Kanye's celebrity friends," a source said.
"Mobile devices will be held at a secure location and if someone needs to use during the festivities, accommodations will be made, but a long way away from the festivities. This is all designed to discourage guests from using their phones."
If someone violates terms of the contract, they will likely be sued, the insider added.
"Kim and Kanye will be licensing the wedding photos for sale and it will also be broadcast on E! as part of their Keeping Up With The Kardashians series," a source said.
The wedding, likely to be in Pairs, is scheduled to take place on May 24.
But two wedding guests will not have to suffer the same fate, RadarOnline.com has been told.
Article continues below advertisement
"There is no way Kanye would ever even dare to ask Jay Z or Beyonce to sign a non-disclosure agreement, or take away their cell phones," said the spy.
"He knows that neither one of them would betray his trust."
As RadarOnline.com previously reported, with wedding preparations in the final stages, the couple has secured their prenuptial agreement.
Celebs Who Have Slammed The Kardashians
For every year Kardashian is married to West, she will get $1 million, capped at $10 million, we learned.
The title of their Bel Air, Calif., mansion will also be in Kardashian's name, even though Westis footing a majority of the bill. Kardashian will also keep all jewelry and gifts given to her by West.
What's more, money she earns from Keeping Up With The Kardashians, her clothing line and promotional appearances, will be considered separate and her sole income.
One of West's life insurance policies — it's valued at $20 million — will name Kardashian as the beneficiary, for life, even in the event of a divorce.
There are no clauses in the agreement concerning custody arrangements of their daughter, North.