Kim Kardashian Has 'Fallout' With Kanye West Over Their Living Situation With Momager Kris!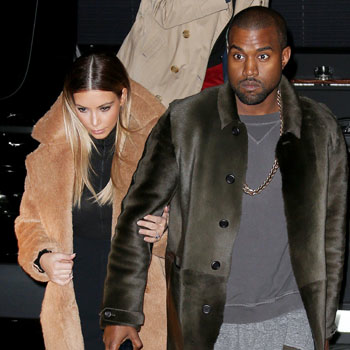 Kanye West is tried of living with his mother-in-law Kris Jenner as their Bel-Air home undergoes renovations and RadarOnline.com has learned of a new report that details how the rapper reportedly had a MAJOR falling out with his bride-to-be over their living arrangements.
According to Britain's NOW Magazine under a story headlined 'Kim's fallout with Kanye over Kris,' West begged Kim Kardashian for some time away from her famed television family and is counting down the days until he can move out!
Article continues below advertisement
"With her new home still incomplete, bride-to-be Kim upsets Kanye as she admits she's happy living with her family," it was reported.
And Kim appeared to confirm the news!
"It's the family dynamic. There's a huge family constantly coming in and out of that house. It's a lot to take! That's why recently Kanye and I went to Paris, just the two of us, and let my family watch our daughter, North," Kardashian is quoted as telling the magazine.
The couple are currently residing in Jenner's Califomia home with their daughter North and Kim's younger sisters Khloe, 29, Kendall, 18, and Kylie, 16, until their mansion is completed later this year.
Revealed: 35 Secrets The Kardashians Want Hidden
"l truly didn't think our house would take this long, but now I love living here. It has everything I could ever need, and I love spending all of this time with my mom and sisters," she added.
Article continues below advertisement
As RadarOnline.com previously reported, on Sunday night's episode of Keeping Up with the Kardashians, viewers saw how Kim had worn out her welcome with her mother.
The "Momager" was disturbed about how Kim and Kanye had quickly made the Jenner family home into THEIR house and became upset to learn the they'd be staying for it at least eight months.
"This is not what I signed up for!" Kris sighed to the cameras, as Kim began picking on her family for everything from their clothes to taste in furnishings.