Fiancé Of Julia Roberts' Dead Sister Nancy Motes Claims Star Barred Him & Late Woman's Friends From 'Secret Funeral'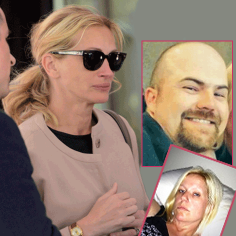 The funeral attended by Julia Roberts and her family in their hometown of Smyrna, Georgia over the weekend was the proverbial nail in the coffin for her late sister Nancy Motes' closest friends, her one-time fiancé John Dilbeck tells RadarOnline.com.
That's because after months of mourning, many of those close to Motes were not invited to grieve alongside the famous family, Dilbeck told RadarOnline.com exclusively.
Article continues below advertisement
"It really hurts," Dilbeck told RadarOnline.com. "I was very frustrated and hurt by it. I needed to voice being hurt, because Nancy's voice is being silenced."
Dilbeck said he started a Twitter page and on Sunday, a day after the funeral, posted the following: "To my disappointment, I was not invited to attend the memorial services in Georgia, for my fiancé #NancyMotes, Saturday May 3rd 2014 Travesty."
Dilbeck said he set up the social media presence "so something positive comes out of this" in the wake of the snubs. He said Motes' friends on the East Coast informed him of the service in her honor, some of whom were invited and some who weren't.
"My belief is that the short notice was to prevent me from going," Dilbeck said.
As we previously reported, Roberts was photographed Saturday looking inconsolable in a black dress and dark sunglasses as she fought back tears.
A separate source told RadarOnline.com that "Roberts' family kept a lid on the funeral," as it "seems they didn't want anyone there who was close to Nancy to know.
"John and his family, as well as some of Nancy's longtime friends in Georgia and Los Angeles didn't know about it at all," the source added. "They're furious, especially Nancy's best friend who went through everything with her."
Article continues below advertisement
Compounding their grief, this is the second time Motes' nearest and dearest have allegedly been barred from paying their respects, after her body was cremated during a private ceremony and taken back to Georgia just over a week after she was found dead of an apparent suicide at a home in Brentwood, Los Angeles on Feb. 13.
"They always knew Julia would do this, so they're not surprised; but they are more shocked at her people's behavior because they're all making it so obvious in how they feel about Nancy's friends and other family," added the source.
Dilbeck was quick to note that his late fiancée would not have wanted Roberts at her final farewell.
"I feel that for anyone who knows Nancy would know that having her sister speak at her funeral it would be the last thing she wanted -- for her funeral to be all about Julia," Dilbeck said. "Because now that is what it is."
Dilbeck said that Roberts was also not present at a memorial in Los Angeles he held in March.
Article continues below advertisement
In the months before her tragic passing, the sibling rivalry between Motes, 37, and her movie star sister was well-chronicled, even by the former Glee production staffer herself, when Motes called the Oscar-winner a "b*tch" and appeared to have called her a "hag" as she went on a Twitter rant just weeks before her overdose.
In the messages — that have since been deleted — she wrote on Jan. 19 under the handle @Dabbs76, "So my 'sister' said that with all her friends & fans she doesn't need anymore love. Just so you all know 'America's Sweetheart' is a B***H!!'"
"Do you want to be a fan of someone so cruel? She's not even that good of an actress. Happy you totally F***ed with me?" added Motes, who shares the same mother, Betty Lou Motes, 79, with the Oscar-winner.
Motes' body was found in a bathtub by her fiancé with non-prescription and prescription drugs nearby. In a five-page suicide note addressed to family members Motes groused how the 47-year-old Roberts supposedly "drove her to do this.
Right now, the second source said, the only recourse for Motes' friends from Georgia to Los Angeles is to lean on each other for support.
"There's nothing they can do about it," the source said. "They haven't been able to mourn her death or release any of their anger about what happened."