From Hollywood To The White House! George Clooney Planning Run For Office In 2016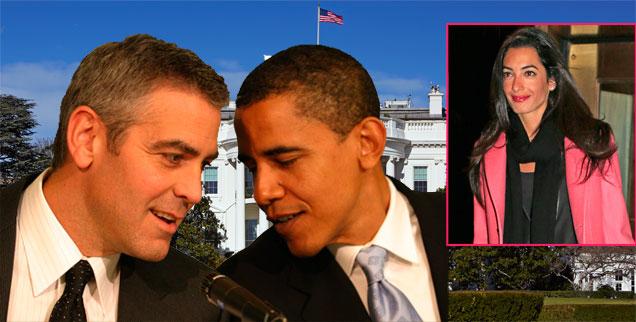 George Clooney already counts President Barack Obama as a close pal- but now the A-list actor may reportedly be considering a move to the Oval Office himself.
According to the U.K.'s Daily Mirror, dedicated humanitarian activist Clooney, 53, is hoping to delve into politics after he weds lawyer fiancé Amal Alamuddin, 36, in September.
"He has big ambitions and aims to get into politics immediately," an insider said. "He hopes to join the Democrats' 2016 election campaign."
Article continues below advertisement
And while Clooney often sidelined his gorgeous exes, including former pro wrestler and model Stacey Keibler, the hopeful politician reportedly plans to make his stunning first lady- one of the U.K.'s top human rights attorneys who counts WikiLeaks founder Julian Assange as a client- a central part of his campaign.
"Now that he has Amal by his side, it will give him more credibility to run for office," the insider adds.
Clooney will likely be a fearless candidate: The star was arrested at the Sudanese embassy in Washington, D.C. in 2012 while protesting the country's alleged war criminal president, Omar Al-Bashir, and recently claimed he was held at gunpoint while on a humanitarian mission in war-torn Darfur.