George Clooney Busted In Love Triangle: One-Time Bachelor 'Knew He Was Going To Marry' Amal Last Year While Still Dating Stacy Keibler!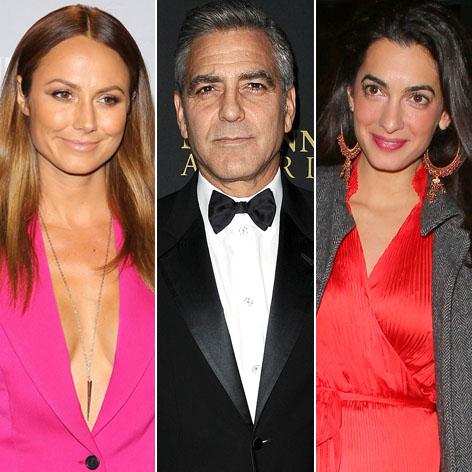 They said it would never happen — but George Clooney is set to tie the knot with a woman he's only dated for a short while, although a shocking new report claims he actually met Amal Alamuddin (and sparks flew?!) last year while he was still dating ex Stacy Keibler.
"George met Amal when he and Stacy were still very much together, and he broke Stacy's heart," an insider told the National Enquirer.
"Although he wasn't looking for love, George started having feelings for Amal immediately. He fell for her fast and hard."
Article continues below advertisement
In fact, Clooney's own mother, Nina, told reporters in April that the Gravity hunk introduced Alamuddin to his family "about a year ago" -- even though he didn't split from Keibler, 34, until July 2013.
"Even back then, George realized that Amal was the woman he'd spend the rest of his life with, and he introduced her to his mother and dad, Nick," the source told the Enquirer.
The source goes on to say that Keibler even believes "that George was laying the groundwork for dumping her months before they actually split."
According to the magazine, Clooney, 53, courted Alamuddin, 36, through flirty emails, but the human rights attorney made him wait a few days before succumbing to his charm.
And as heartbroken as she was, Keibler didn't waste time or tears on Clooney, quickly marrying tech entrepreneur Jared Pobre on March 8 and announcing they are expecting their first child together.
To find out more on Clooney's twisted love triangle, pick up the latest issue of National Enquirer, on newsstands everywhere on Thursday.