'True Tori': Spelling Recalls The Moment When Husband Dean McDermott Lied To Her In Denying Affair -- 'I Noticed His Right Eyebrow Shaking'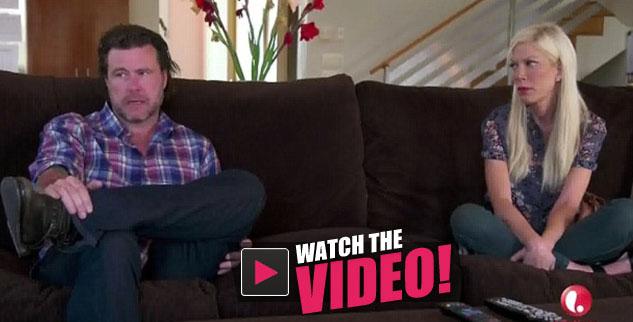 On Tuesday's edition of her new Lifetime reality show True Tori, Tori Spelling revealed the devastating moment when she knew husband Dean McDermott lied to her, as he denied having an affair.
Spelling told the cameras that after she confronted McDermott about the other woman who claimed she'd had sex with him, he first tried to fib his way out of trouble.
"He told me, 'Nothing happened.' Then he was looking at me and I noticed that his right eyebrow was shaking up and down. I said, 'Why is you eyebrow shaking?' Are you lying? And he said no."
Article continues below advertisement
Spelling said she told him she'd never seen his eyebrow shaking — "ever, in our whole relationship."
And Spelling, 40, was suspicious as her publicist had called to tell her right before Christmas that the other woman — Emily Goodhand — was going on the record with US Weekly to tell her story of having a steamy affair with McDermott, 47, in Toronto.
It was the second disturbing call from her rep about the woman — the week before, Spelling had jokingly asked McDermott, "Who'd you f**k in Toronto last weekend?"
But the former Beverly Hills 90210 star finally believed the bad news just as their kids Liam, 7, and Stella, 5, were preparing to perform in a holiday pageant.
Her publicist warned Spelling, "She's giving all the details of her two-day affair with your husband and it's going to come out next week, Christmas."
Spelling told the cameras she and McDermott were just about to leave for the holiday performance with the children when she spoke to him privately.
Article continues below advertisement
After her husband's eyebrow shook strangely, Spelling recalled on her new reality show, "I wanted the truth. My heart was pounding so fast I could barely speak.
"He said, 'She came back to my hotel room with me but we just kissed. We didn't have sex,'" she recalled. "I knew in that moment the worst had happened. I said 'I don't believe you for a second.'"
Incredibly, the couple then had to go watch their two older kids perform with McDermott videotaping the happy holiday scene (which aired on Lifetime).
"I was so proud and devastated all at the same time," an emotional Spelling told viewers.
Afterwards, Hollywood's famous poor little rich girl gave McDermott a stern ultimatum: "When we get home, I need you to tell me every single detail -- if you even want me to entertain staying with you, I want to know everything."
And so, he did tell all!
"He went through the entire weekend, every single detail," the daughter of late TV pioneer Arron Spelling recalled. "He told me everything. I just listened. I think I nodded, made sure I didn't show any emotion.
Article continues below advertisement
"I didn't want to cry: I didn't want him to know how much my heart was broken."
The next day, McDermott voluntarily went into treatment; on True Tori, he said it was for alcoholism and addiction issues.
As RadarOnline.com has previously reported, when the show began, Spelling was driving to visit McDermott in rehab and sobbed, "I miss having my best friend … it was just stripped from me."
True Tori later showed scenes of Spelling taking care of their four kids, Liam, Stella, Hattie, 2, and Finn, 18 months, while McDermott stayed in the unidentified treatment facility.
In a confessional segment, she sighed, "He's the love of my life. He broke my heart. I don't know if I'll ever be able to trust him again."
Cameras also showed Spelling getting comfort and advice from friends.
"I know I'm still in love with him," she told her best friend, a man named Mehran.
"I want to know what I did," the insecure star said, seemingly blaming herself for McDermott's cheating. The supportive Mehran pointed out, "He's done something wrong to YOU. This might not have a happy ending."
Article continues below advertisement
Watch the video on RadarOnline.com
radar_embed service=5min.com src="http://pshared.5min.com/Scripts/PlayerSeed.js?sid=1126&width=570&height=351&playList=518206100"
Later, her female friends Jess and Kate gave her sympathy as they shopped at a fabric store.
But Spelling admitted Kate felt she was better off without her husband.
While at the store, the reality star went into a panic when McDermott mistakenly sent her a text she apparently thought was meant for another woman. Then she realized it was to another person in the treatment center.
"It was innocent but I'm on high alert," Spelling told the cameras.
When she finally saw McDermott, viewers were told they had not discussed his affair since he went into treatment.
Spelling applied lipstick before going inside to see her love rat, commenting, "He's still my husband and I want to look good. Don't judge me."
The doctor said he was dealing with addiction, depression, and the fallout from the affair.
Article continues below advertisement
Spelling admitted early in their relationship that she had "felt bamboozled," but didn't elaborate, and the doctor, who was not seen on camera, said he's been a liar his whole life.
McDermott then made his mea culpas to the former 90210 star, telling her, "I've hurt you so bad. That's why I'm dealing with my alcoholism and my addiction."
He said that if he didn't succeed in treatment, the couple was "not going to make it."
Spelling wasn't buying his explanations, however.
"I'm angry that you cheated on me," she said.
The actor admitted, "I cheated on you and I lied to you. I'm sorry. I don't want to lose you."
But Spelling said he never changed: "I've been let down over and over and over again."
Still, McDermott wanted to rejoin his family.
"What are your thoughts about me coming home? Soon? I'm really ready to come home."
Article continues below advertisement
Spelling said, "I don't feel like I'm comfortable with that."
McDermott said he wondered if she wanted him home at all.
A vulnerable Spelling revealed she didn't have the tools to challenge him if it turned out he didn't change.
"I just haven't been heard," she explained.
McDermott encouraged her to let go, to get angry, and "just slap me in the face, right now," but she didn't.
After leaving him in treatment, a teary-eyed Spelling then confided in a confessional segment, "I'm so scared we won't grow old together. That's my biggest fear."
True Tori airs on Lifetime Tuesdays at 10/9c.