Exclusive
Tila Tequila's Baby Daddy Revealed As Thomas Paxton Whitaker: 'Tila's Going To Be A Fantastic Mother! She's A Strong But Fragile Woman With A Purpose In This World'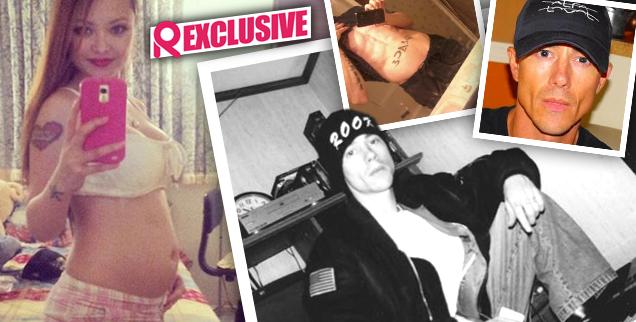 One-time reality TV star, nude model and sex tape star Tila Tequila claims she's 10 weeks pregnant and the mother to three step-children with the baby daddy who RadarOnline.com can exclusively reveal as Thomas Paxton Whitaker.
After revealing her pregnancy to fans on April 18 with a Facebook announcement, RadarOnline.com found out that the man she's living with and having a child with a 42-year-old Georgia-native that is a struggling self-professed musician out of Whitesburg who describes himself as "an American Songwriter, Musician, Rapper, and Music Producer."
Article continues below advertisement
RadarOnline.com has also discovered that Whitaker filed for Chapter 7 bankruptcy in Nov. 2007 and has had three liens and judgements against him totaling $6,407.
When reached for comment, Whitaker was overwhelmed with excitement over the new addition to their family and had nothing but nice things to say about Tila.
"Tila is right around 10 weeks into her pregnancy, and yes ma'am I am the father of her/our baby. Tila has a wonderful relationship with my daughters Sierra, Jenna, and Brianna...and they love each other very much! We are all very happy about the arrival of a new edition to our family, and about the blessing of the birth of a child into the world," Whitaker exclusively told RadarOnline.com.
"Personally...it has been very rewarding to see how happy Tila is about being a mom. For me, there's a deep satisfaction which comes along with seeing someone reach that kind of a place within themselves. Most especially for someone who has been waiting for that release in and from life, but has had yet to experience it.
"I get a lot of satisfaction out of seeing people make it to that point because many never do. Tila has finally reached that place in her life which will define her as the person she truly is...a strong but fragile woman with a purpose in this world who deserves to be loved just as much as any of the rest of us."
Article continues below advertisement
Video of Whitaker showing off his guitar skills by playing a riff from Chris Bishop's song "Wonder Why" can be seen below:
Despite Tila's excitement over her baby, the Singaporean-born actress has yet to gush publicly over Whitaker — but he's more than willing to gush over the former MTV star.
"As humans we all tend to fall short between one another, but for a fleeting moment...the love of a child toward their parent is unconditional and would spare no, or give any sacrifice. You can see it in their precious little eyes every time they look up to you in need with stretched out arms. There is no feeling like that in the world, and everyone should be so blessed to experience such a thing," he said.
"It's Tila's turn now, and I have no doubts she is going to be a fantastic mother! I love her very much!"
Over the weekend Tila, 32 — real name Thien Thanh Nguyen — posted an open letter to her baby to be:
"Dear Baby,
"I used to write you letters like this all of the time. I have waited so very long for you to come into my life, and I want you to remember that no matter what people out there say about us just know that you are a gift from God. You saved my life sweet baby! That is more than a miracle, and I love you so very much! Daddy loves you very much too! You are so very special, and never ever let anyone tell you otherwise! Always know this ok? You are my everything!
Article continues below advertisement
"Love Always, Mommy."
Whitaker appears to be the complete opposite of Hollywood-type guys Tila dated in the past, goofing around with his buddies:
Tila and Whitaker have been living together in Georgia.