It's The Late Show… With Stephen Colbert! Comedy Central Host Replacing David Letterman As CBS' Late Night Ace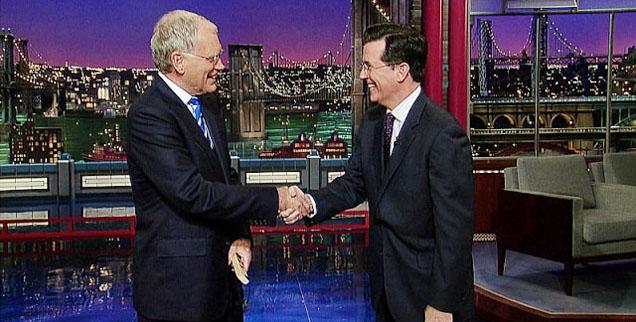 CBS wasted little time appointing David Letterman's heir apparent, announcing Thursday that Stephen Colbert will replace the gap-tooth icon when he retires in a year.
Network head Les Moonves said of the banner decision, "Stephen Colbert is one of the most inventive and respected forces on television.
"David Letterman's legacy and accomplishments are an incredible source of pride for all of us here, and today's announcement speaks to our commitment of upholding what he established for CBS in late night."
Article continues below advertisement
Colbert, who artfully rebounded through a racial scandal earlier this month, said, "I'm thrilled and grateful that CBS chose me.
"Simply being a guest on David Letterman's show has been a highlight of my career. I never dreamed that I would follow in his footsteps, though everyone in late night follows Dave's lead."
"Now, if you'll excuse me, I have to go grind a gap in my front teeth."
Colbert, 49, was "the only one on the air currently that CBS is considering," according to a Deadline report filed last week after the Indiana funnyman relinquished his throne.
Craig Ferguson is an inadvertent beneficiary of the corporate decision, according to reports, getting $5 million for the pass-over.
"Conan O'Brien's was a lot bigger," a source said of the Scottish funnyman's golden parachute.
The Late Show with David Letterman airs at 11:35/10:35c weeknights on CBS.