One More For The Shore! Snooki Confirms Second Pregnancy, Then Rips Tabloids For Premature Reports, Stories About JWoww Slight & Partner's Suspected Cheating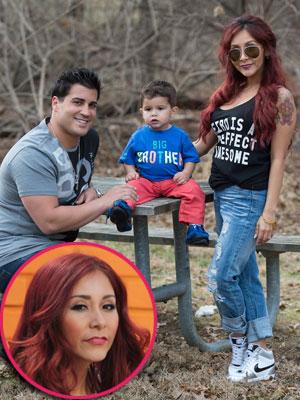 Snooki announced Friday is about to become a mommy for the second time -- and had plenty more to say than just that!
The 26-year-old pop culture starlet, who gave birth to son Lorenzo August of 2012, formally announced her good news to the public in a Celebuzz blog, saying she and fiancé Jionni LaValle, 26, are "THRILLED" to become parents a second time.
The Jersey Shore beauty did say she was irked by news leaks to tabloid outlets who picked up on the news earlier than she would have liked them to.
Article continues below advertisement
Waiting At The Altar — 38 Hollywood Weddings That Were Called Off
"Unfortunately, like my first pregnancy, I decided to tell a select few people that we were expecting before the 3rd month mark, and it got leaked to certain media outlets," she said. "Again, it has happened with my second … it's always certain media that decide to tell our wonderful news BEFORE we are ready.
"I get it, we are on a reality show and share 98% of our lives to our fans, but with this particular situation with expecting a child has to be announced from us personally, not by some tabloid headline trying to make a quick buck."
The reality star, who authored the book Baby Bumps last year, vowed that "when I'm expecting my third child, I will not tell a soul for the privacy and protection of my family."
Snooki, in the crass way that made her a star, also shot down speculation she was keeping the big news under wraps to preserve her busy and lucrative appearance schedule.
"Who pulls this s**t out of their a** anyway? Just because I'm pregnant means I can't work? Fail."
Article continues below advertisement
She called out Complex.com for a February piece that poked fun at the irreverent reality star's transition to motherhood.
"Really Complex?" she wrote. "With all the trouble in this world you're asking God to help us because I'm expanding my family and happen to be an amazing mother to my children? Keep the 2012 jokes to yourself."
As we previously reported, other Jersey Shore castmates who've become parents in the past year include Pauly D and Snooki's partner-in-crime JWoww, who's pregnant with a baby girl.
The pint-sized parent also addressed whispers she timed her pregnancy specifically to stay in the limelight so JWoww's nascent motherhood wouldn't steal her sunshine.
"What really bothers me is how people think I got pregnant to be 'selfish' and take the 'shine' away from JWoww. Are you out of your minds?" she asked, noting that "we always wanted to be pregnant together.
"I love Jenni like my big sister, she is everything to me, not fame … we have a true friendship that I will cherish forever, and getting pregnant just to outshine my best friend is absolutely absurd and disgusting."
Article continues below advertisement
She also addressed critics of the fact she's having a second baby with LaValle, without a first trip to the altar, declaring that she and her partner "planned to have a second child before our wedding," which they have scheduled for this fall.
"We are a committed family that will raise our children to be the best they can be and give them the best life we can give them," she said. "So please, enough with the rude marriage comments. We are getting there, just waiting for the right time. He is my best friend and trust me, we will be together until death do us part."
And covering all her bases, she shot down reports that she was hesitant to tie the knot with La Valle due to concerns he's been two-timing her, blaming the news on "some weirdo had to make up a story to sell to try and ruin us.
The 17 Highest Paid Media Figures On TV
"Honey we are very secure in our relationship and I know and trust my man, he wouldn't hurt me or our family," she said. "He's a real man. So we will pray for you and hope one day you can find happiness.
"The wedding is still on as scheduled and it will take the apocalypse to change that."
We'll keep you posted on Snooki's pregnancy, right here on Radar.