Bad Hair Day! Celeb Hairstylist Oscar Blandi Sues Investors For $1M — Do A-List Clients Like Kelly Ripa Know?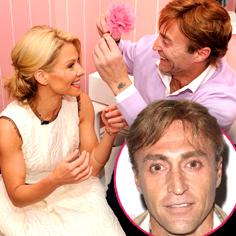 Article continues below advertisement
According to court documents obtained by Radar, Blandi and his business partners Louis Rotondi, Gina Bertolotti, and Gina Lombardi filed a lawsuit against TPR Holdings Inc. for $1,095,344.25, due to "nonpayment of amounts that are due and owing under two promissory notes issued by TRP" to acquire their interest in Blandi's high-end hair product in 2011.
Should TPR "fail to appear" at the upcoming trial, the document notes, Blandi will be awarded that sum, plus 10% interest from the April 11 filing date, and court costs, in a summary judgment.
Blandi's namesake salon on Madison Avenue in is a frequent stop for celebrity strands in distress. His most loyal clients -- to name just a few -- consist of Jennifer Garner, Faith Hill, the Olsen twins, and Kelly Ripa. He also joined the entourage on set filming Mission Impossible: 3 as the personal hair consultant of Tom Cruise.
Blandi launched his line, 'Oscar Blandi Collection' in 2005, and six years later beauty investors TPR Holdings LLC announced they had acquired a controlling interest in the company with a view to take these products on the route for international expansion. They are still in business together as of now, despite the lawsuit.