Exclusive
Hair Wars! Jennifer Aniston Battles Miley Cyrus For Control Of Her 'Mane' Man, Hairstylist Chris McMillan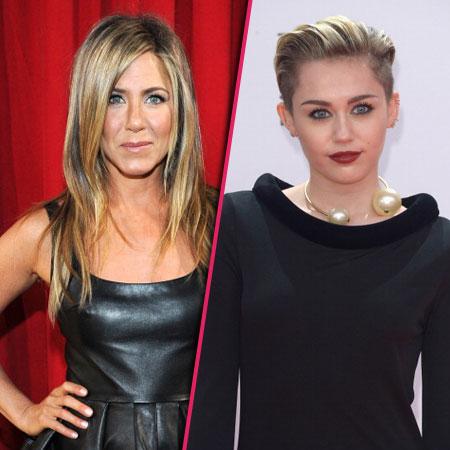 Jennifer Aniston wants her longtime "mane" man, hairstylist Chris McMillan, to focus on HER look — instead of that of his new superstar client, Miley Cyrus, RadarOnline.com has learned.
The sexy 2013 success of twerk queen Cyrus, 21, has been partly attributed to her blonde pixie cut created by McMillan, famed for giving Aniston "The Rachel" hairdo for her Friends character in the 1990s.
"Miley has radically remade her look with the help of handpicked hairdresser Chris, but the successful creative collaboration between the pair is headed for splitsville because of Jen," a source told RadarOnline.com.
Article continues below advertisement
"Jen has gotten very impatient with Chris' constant attention to Miley -- as well as the fact that Miley's hair is getting so many headlines."
According to the source, Aniston isn't planning a Cyrus-style blonde crew cut of her own, but "she does want Chris to refocus on her image in the coming year, as she has three movies in the pipeline with big potential in 2014."
As RadarOnline.com has previously reported, Aniston has been planning a new bad ass makeover, recently trying out a shorter haircut (which McMillan called "a chewed up bob") and getting clothes advice from style guru Kate Young.
Meanwhile, last August, McMillan spoke out about working with Cyrus, saying about her hair: "We're growing it out. Up and over is the new direction. We're keeping it short on the sides and back until the top gets longer."
McMillan was also photographed with Cyrus for Cosmopolitan.
And all his attention to Miley has left Jen, 44, apparently fuming, the source said.
The source said: "Jen wants Chris to lay off Miley for a while. It's become an ultimatum. She has been dissatisfied with the situation for a long time, and things seem to have reached a breaking point."