Exclusive
Her Hair Is Full Of Secrets: Lindsay's Hairstylist Reveals Lohan 'Partying Hard' In Recent Weeks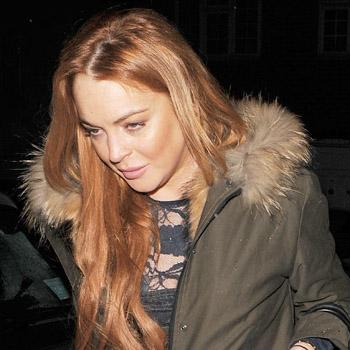 Lindsay Lohan stormed into London last week over a series of late nights out on the town that saw her stumbling out of clubs, scurrying into a sex shop-themed restaurant and throwing her usual tantrums in public.
And while her adventures have supposedly been entirely alcohol-free, she claims, they're still doing a number on her looks.
RadarOnline.com can reveal that she made an emergency call to hair extension expert and celebrity stylist Tatiana Karelina for some beauty 911 to make her ready for another night on the town.
Article continues below advertisement
Lohan is "partying hard," a rep for Karelina tells RadarOnline.com, "and needs to look her best at all times."
On January 16, Karelina made a special house call to Lindsay's rented flat in the Chelsea neighborhood of London "before another night of partying," the rep says, where she "styled her 22-inch extensions, curling the hair into loose waves, and trimming a slight layer to frame her face."
Lohan didn't opt for Karelina's ultra-luxe "Tatiana Hair Extensions," however. The rep reveals that Lohan uses "what they call seamless extensions, where a slice of her hair is inserted between two sticky wefts strips of tape," a sometimes-damaging method that Karelina does not recommend.
Newly coiffed, Lilo showed off her new do at the No. 41 nightclub in Mayfair, as RadarOnline.com has reported.
The club's DJ, Dean Scorch, told RadarOnline.com that Lilo was "dancing all night."
But her time in London is already a distant memory for Lohan, who was spotted hanging with friends at TAO nightclub at Sundance in Utah on Sunday night.