Exclusive
'Dancing All Night,' Hanging In VIP & Bombarding The DJ With Song Requests -- Inside Lindsay Lohan's Wild Night Out In London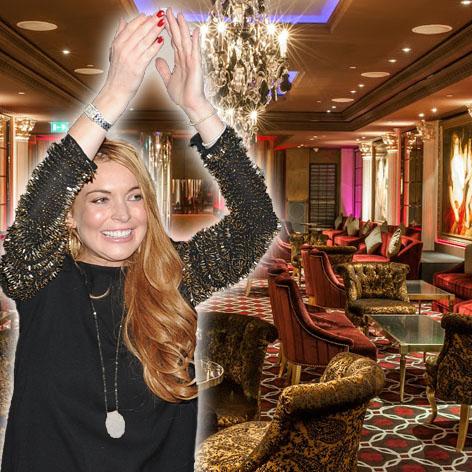 Article continues below advertisement
Lohan made a grand appearance at the re-opening of posh late-night spot No. 41 Mayfair on Thursday night in thigh-high leather stockings, a tiny miniskirt, and a black top with a plunging fishnet neckline. Her brother Michael Lohan and Siva Kaneswaran, bandmate of her former hookup from The Wanted, Max George, were also on hand.
As such, the DJ, Dean Scorch, tells RadarOnline.com exclusively, "It was a little bit cheesy to be honest, but since the guy from The Wanted was there with her, she asked me to play a song by them. I just played the house remix of 'Glad You Came.'"
In addition, Scorch says, she put in a request for "Midnight City," the theme song to British reality TV show Made In Chelsea by M83. Perhaps because she's been staying in an apartment in London's Chelsea neighborhood, "That was the main one she wanted," he reveals. "She was quite specific about it."
Lohan was "in the DJ booth frequently," Scorch says, but also spent a lot of time on the dance floor.
Article continues below advertisement
"She was dancing all night!" he says. "She was actually really cool about everything. I didn't even recognize her at first until she introduced herself as 'Lindsay' and I saw her security detail."
As to the big question -- was she drinking alcohol -- Scorch says, "To be honest, I wouldn't really give away stuff like that … I work at the club."
But he does reveals that she spent a good part of her night hidden away in a VIP section "towards the back" of the club.
According to reports, Lohan banked several thousand dollars for her appearance there.
Whether she was drinking or not, do you think this is how Lohan should be spending her time in sobriety? Let us know in the comments!