Things Are Heating Up Between Lindsay Lohan & Her British Boy Toy, Christian Arno Williams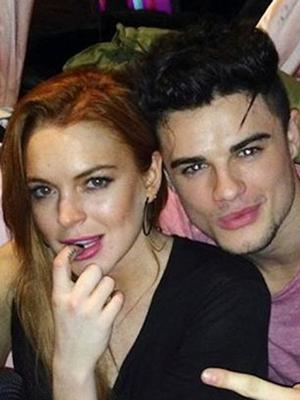 Lindsay Lohan is smitten with her new love interest, and we've got all the details about her new beau right here on RadarOnline.com.
The Canyons star was reportedly overheard bragging to her friends about her rumored romance with British student/part-time model Christian Arno Williams during a trip to the club Boujis in Kensington, London Sunday.
"Lindsay was overheard gushing about her new boy toy that she has been seen out with this week, telling anyone who would listen how great he is," an eyewitness told Radar.
Article continues below advertisement
Williams did not accompany Lohan to the venue, but she was seen arriving with a group of friends after midnight, where she danced the night away to a string of R&B hits. Inside the swanky nightspot, Lohan sat at a VIP table with pals, who reportedly spent nearly $5,000 on cocktails including "Crackbaby" shots and the club's signature drink, Boujis B cocktail vessel, before leaving at 3 a.m., the onlooker said.
LiLo, 27, met Christian at the Shanghai Fashion Awards in China, and the pair are said to have been inseparable ever since, with Lohan even buying the Abercrombie and Fitch hunk a $49,200 Rolex. Despite the fast romance, the pair are still reticent to go public, an insider told the Mirror.
"They spent loads of time together and got pretty close, quite quickly," the insider said. "Neither knows whether this will lead to anything or if it was merely a holiday romance but, at the moment, Christian is really happy and quite excited.
"He has only told a handful of people and is trying to keep is discreet, as is Lindsay."
For all the latest news on Lindsay, keep it right here on RadarOnline.com.