Exclusive
Sex & Sobriety: Lindsay Lohan Met Secret New Boyfriend INSIDE Rehab — Who Was Kicked Out After Counselors Discovered Their Love Affair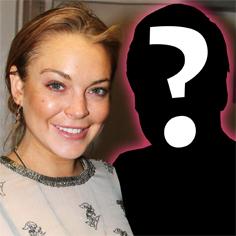 Lindsay Lohan wasn't exactly lonely in rehab, because RadarOnline.com has exclusively learned she was seeing a fellow patient while at the Cliffside Malibu treatment center and he was kicked out for inappropriate sexual relations with the actress, but the two continued to meet up outside the center at AA meetings.
According to a former patient who was in rehab with Lindsay — the 27-year-old starlet and a male patient (we are keeping unidentified), the two began "dating" almost immediately upon her arrival at the Southern California rehab center.
Article continues below advertisement
"Prior to Lindsay's arrival I was roommates with the guy who ended up dating her. When she came, the first or second day they ended up kissing and it was on from there," the insider told RadarOnline.com in an eye-opening exclusive tell-all interview.
"The guy was actually dating someone else in rehab at the time and Lindsay told him he needed to get rid of that other girl and be with her only. She was really territorial with him."
What's more, the insider says everyone in the clinic was aware of Lindsay's relationship with the other patient because they flaunted it — which is what ultimately got him booted from the rehab center.
"Everybody in rehab knew they were dating. It was pretty obvious. But the guy eventually got kicked out because of Lindsay," the source told RadarOnline.com.
"The guy who owns Cliffside slacked on the rules for Lindsay, but they got cocky with their relationship and people got uncomfortable with the situation, saying they couldn't do that stuff when people are trying to get well. It was the Lindsay show. Drama.
Article continues below advertisement
"I know that's why he was asked to leave, because Cliffside made a big scene about it. They interviewed everyone about it, and all the girls ratted them out because they hated Lindsay."
The rehab relationship between Lindsay and the 23-year-old male lasted for about a month, the source says, before her boyfriend was placed in an all-male treatment center.
"They're still together now. They go to meetings outside and she meets him there. She still talks to him every day," the insider revealed.
"He was at my house in Orange County on July 4th and Lindsay was totally controlling him, calling him saying she was going to get a car to pick him up or something because she wanted to see him. It was crazy."
The source doesn't think the relationship with Lindsay and the guy will last -- especially now that she's out -- but says Lindsay just needs to control someone and the guy sticks with her because she showers him with gifts.
Article continues below advertisement
"I asked Lindsay one time why she always felt like she needed to be dating someone and she said she likes to have someone to control. She said she was co-dependent and needs to be with someone, and couldn't even leave the house alone," the source says.
"The guy was nice to her, but it was fake. He would talk sh*t about her behind her back. Lindsay basically bought his affection. One time she bought him like seven pairs of shoes online at one time!"
But the guy has remained hopeful that the relationship with Lindsay will last and has seen her since her release from rehab.
"He thinks they're going to last. He's trying to hold on to her. And she's stringing him along, saying she wants to take him to New York," the source tells RadarOnline.com.
"But Lindsay's a typical rescuer type. She thinks she can fix him or something, but really he's just her little b*tch. Her little pet."
Stay with RadarOnline.com for more shocking exclusives and behind-the-scenes information on Lindsay's stay in rehab…