She's Baaack!!! Lindsay Lohan Released From Rehab!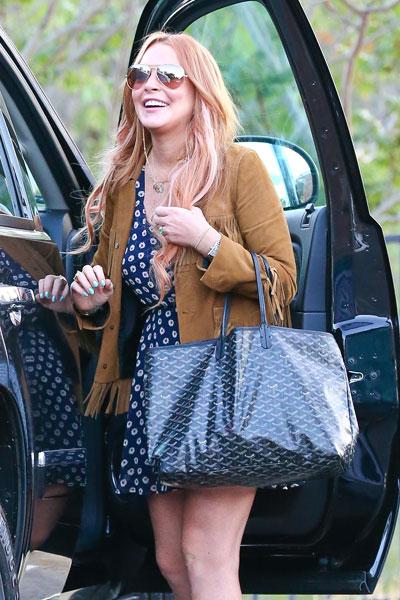 In what can only be described as a midsummer night's dream for the actress, Lindsay Lohan was all smiles as she wrapped up her court-ordered rehab at Cliffside Malibu Rehab Center Tuesday, and we've got the shots for you right here on RadarOnline.com.
Lohan, 27, was all smiles clad in a light blue patterned dress, suede brown jacked and ankle booties, with her trademark red mane glimmering.
There's been much speculation over how LiLo will adapt to the outside world following her latest rehab stint, as sources close to the starlet say she's planning on distancing herself from past bad influences -- a list that includes her former girlfriend, DJ-socialite Samantha Ronson.
Article continues below advertisement
"She has not been this good in a long, long time," a source told us exclusively. "She's come 180 degrees from where she was -- it's amazing."
The actress won't have much time to rest, as got a busy week ahead, as she's planning to promote her latest film, The Canyons. The movie casts LiLo alongside James Deen, who earned his own measure of notoriety this summer as Teen Mom Farrah Abraham's co-star in the sex tape, Farrah Superstar: Backdoor Teen Mom.
The Canyons will be in theaters Friday in New York and Los Angeles, as well as VOD and iTunes next week.