Exclusive
Lindsay Lohan's First Stop After Rehab: She's Going To Her Movie Premiere, Says Co-Star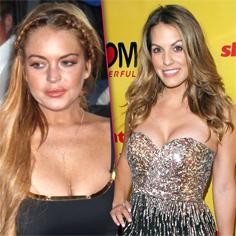 Lindsay Lohan's release from rehab is perfectly timed to help the troubled actress get immediately back to business at the premiere of her movie The Canyons RadarOnline.com has exclusively learned.
Lindsay has been locked up in rehab since early May and now according to her co-star Tenille Houston the first thing she's going to do when she gets out is attend the August 2 premiere in the United States for the controversial Bret Easton Ellis film.
Article continues below advertisement
"We were originally going to have the premiere in June but it got switched around so Lindsay could be there," Tenille told RadarOnline.com.
"And we're going to be in the Venice Film Festival also and I'm going and so is Lindsay," she confirmed.
Lindsay was sentenced to 90 days in rehab after filming of The Canyons wrapped and she began her treatment at the Betty Ford Center on May 3. She switched to Cliffside Recovery in Malibu on June 13 and will spend the remainder of her time there. Her 90 days are scheduled to be completed on July 31, 2013.
Tenille said despite the bad press that Lindsay got about filming with porn star James Deen she had a purely professional experience with her.
"I spent an entire day filming with Lindsay and she was the nicest person on set to me. She was the only person who ever asked me to run lines with her before we started filming. She was friendly and nice to me right away. I know people said she was a diva but I didn't see that side of her."
Article continues below advertisement
A photo surfaced during filming of Lindsay and Tenille posing with wine glasses and even though this was before Lindsay's' rehab stint, Tenille denied that they were drinking booze.
"I had diet coke and she had grape juice. We weren't drinking alcohol at all."
Tenille gave RadarOnline.com a glimpse into how coveted Lindsay was for the role.
"My character was originally named Lindsay," she said. "And when they cast Lindsay Lohan they changed the name of my character to Cynthia because of her."
The actress said the cast was blindsided by the New York Times hit piece about the drama filled set.
"We had no idea that was the type of article they were going to write. I liked working with Lindsay. Our characters have a really raw relationship and she turned that on as an actor. Our scene is super intense."
Tenille, who is also producing her own film 2Br/1Ba, said that she is very proud of The Canyons.
"Working with a director like Paul Schrader was a great experience and to see him interact with Lindsay really showed his expertise.
"This movie is really dark and I think everyone in it does an incredible job."