Exclusive
'Totally Drunk' Lindsay Lohan Is A Home Wrecker: Starlet Faces MORE Claims She's Fallen Off The Wagon After 'Stealing' An 18-Year-Old Male Model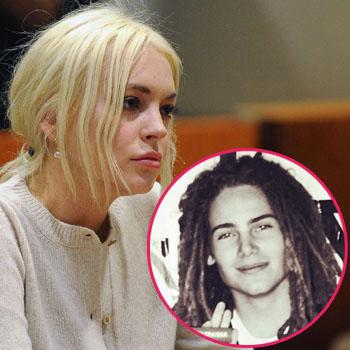 She's back... to her boozing and man-eating ways.
Lindsay Lohan is involved in a steamy relationship with an 18-year-old Ralph Lauren model, RadarOnline.com has exclusively learned -- resulting in the disintegration of the hunk's relationship with another woman and her falling off the wagon, it's been revealed.
Just three months after she was released from rehab, 27-year-old Lohan has become involved with Morgan O'Connor and has reportedly carried on an secret romance with him for the past several months -- behind the back of his girlfriend, Chiara DiGiallorenzo.
Article continues below advertisement
"All of Chiara's friends are telling her that Morgan cheated on her with Lindsay but he's denying it," a source told RadarOnline.com.
A heartbroken Chiara discovered the apparent infidelity last month when friends told her Lohan had stolen her lover, it's claimed.
"Chiara flew home to be with him on her fall break from college," an insider said.
"That's when she discovered a text messages from Lindsay on his phone. It read, 'I don't want to leave you. Don't kiss any other girls please.'
"Chiara was furious. She confronted Morgan, who admitted that they were involved and promised to break it off with Lindsay.
"He supposedly fired off a message to her in front of Chiara. He supposedly ending it, once and for all -- and recommitted to his relationship with Chiara.
"Morgan told Chiara that he sent a text message to Lindsay and he told her he didn't want to hang out with her because she was bringing him down.
Article continues below advertisement
"The message apparently said, "I can't see you anymore. I have a very serious girlfriend who I love very much. I'm very sorry and honestly quite angry that I ever had anything with you, you are the epitome of trash and the world knows it. I just wanted to let you know to never contact me again and I never ever want to see you again."
But that declaration didn't appear to last long: As RadarOnline.com reported, Morgan was secretly snapped at the Foxwoods Resort and Casino in Connecticut, where LiLo hosted a Halloween party on October 31.
Things had gotten so serious between Lohan and Morgan that he even got a tattoo with her at a parlor in New York on October 13, the source revealed.
"It was his first tattoo," the source said.
He was also with Lohan during an altercation at an East Village bar.
"Morgan told Chiara that Lindsay was totally drunk at the bar," the insider claimed. "She was drunk dialing people and being aggressive with them on the phone."
Despite the love triangle, Chiara still believes the pair are together and their mutual friends are trying to dissuade the hunky model from dating the actress.
Said the source: "Morgan's friends are telling him that Chiara is the best thing that has ever happened to him and that Lindsay is 'white trash' and that he should stay away from her."