Same Ol' Song & Dance: Lindsay Lohan 'Insanely Belligerent,' Confrontational At New York Karaoke Bar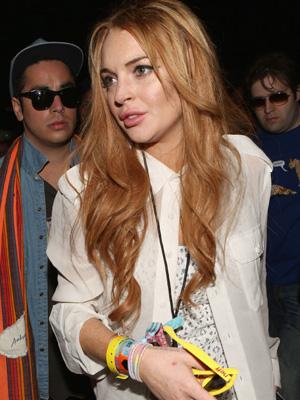 Just when we thought we were out, she pulls us back in …
Lindsay Lohan behaved "insanely belligerent" -- and got into a verbal fight with a worker -- during an all-night kickback last week with pals at New York's Sing Sing Karaoke bar, RadarOnline.com has learned.
An insider told the NY Daily News that "Lindsay was chain-smoking" throughout the outing at the East Village pub, where she and her hangers-on primarily hung out in a private karaoke room.
Article continues below advertisement
While LiLo was overheard saying she wasn't boozing, her entourage sure was, draining a bottle of Jameson, and leaving the room they were in a mess of empty liquor bottles and garbage.
At one point, Lohan pleaded with staff to keep the bar open after its' designated closing time, which led to a "disturbance."
After staffers asked her to hit the road, LiLo summoned the NYPD to the scene, where she said that they had held her captive in a private karaoke room, the insider told the paper. Police did not take a report of the incident.
"If they care about her," he said, "they won't drink in front of her."