Looking Good Is The Best Revenge! Porsha Williams 'Feels Sexier' Than Ever After 'RHOA' Brawl -- Trainer Reveals Her Secret Diet & Workout Plan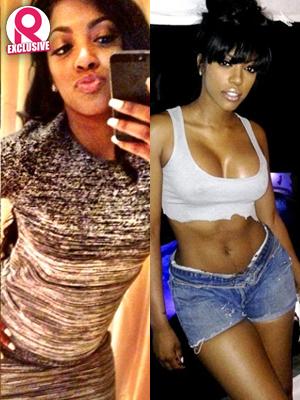 Article continues below advertisement
"Porsha has a great figure already, so her main goal was to tone up and get defined," Darrell Patterson, the Founder/CEO of Raising the Bar, told RadarOnline.com exclusively.
On April 11, one day before Williams' first training session – and just over two weeks after she attacked Kenya Moore during the RHOA taping -- she joked on Instagram: "The night before your 1st real workout, and you like, 'Hmm I'm good...' Then you remember Popeyes, Wendy's shakes, and the sneak trip to McDonald for fries…" Working off her past indulgences, Williams feels the burn four days a week.
During her 60-90 minute workout sessions, the RHOA star does a mix of high-intensity training so "the body can burn fat and calories" and strength training to "sculpt and tone the body," Patterson said. "I'm not concerned about her losing weight," he insisted. "With the workouts we do, she'll lose size in inches. The goal is to eliminate as much fat as possible in certain areas and gain muscle."
In addition to working out, Williams follows a strict "low carb" diet during the week. The nutritional plan includes eating four to six egg whites, oatmeal or apples for breakfast, followed by a moderate lunch and dinner of lean meats like chicken, salmon and bison, along with vegetables, Patterson revealed.
Article continues below advertisement
Strictly off limits are greasy, fried foods and sugary drinks."No fried chicken," Patterson laughed. "And I try to have her stay away from any type of liquors or alcoholic beverages."
Although Williams hasn't had an official weigh in yet, she loves her slimmed down figure, Patterson said.
"She is seeing the results paying off and says she feels better and sexier. She shows up early all the time and comes ready to workout," he said.
"It makes it easier to train her, because she's hungry for it. Anything I throw at her, she's ready to take it on."
Watch Porsha Williams and Darrell Patterson during a recent workout: