Exclusive
The Incredible Shrinking Woman! Christina Aguilera Shows Off Hot New Body After 55-LB Weight Loss -- How'd She Do It?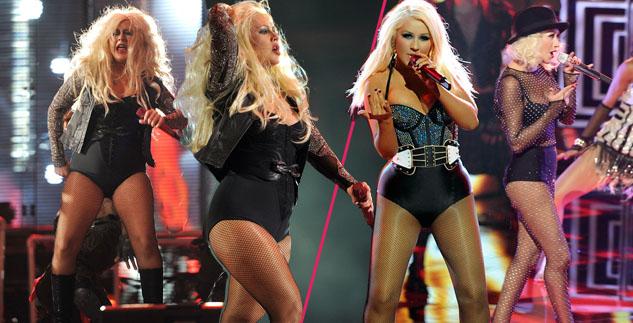 Article continues below advertisement
Only a few years ago, at the Michael Jackson Tribute Concert in 2011, the 5'1" diva "looked to be topping the scales at a whopping 165 pounds," Hunter, author of The Accidental Diet: From Fugly to Fox, says. "It was widely reported that relationship problems, combined with her new gig on The Voice were to blame for her dramatic weight gain."
Still, Aguilera refused to put away the bodysuits, insisting, "Actually, the challenge I've always had is being too thin, so I love that now I have a booty, and obviously I love showing my cleavage. Hey, if you can work it and you can own it, that confidence is going to shine through."
But soon, she started to shrink. During a performance on The Voice last year, Aguilera was noticeably smaller.
"Christina was still a far cry from her 'Dirrrty' days, but she was definitely making an effort to drop all the excess weight," Hunter says. "She looked to have dropped at least 25 pounds and was hovering around 140."
Now, Hunter says, "She looks to be clocking in at around 110 pounds tops, maybe even lower since she looks to be lacking healthy muscle tone!"
Article continues below advertisement
"She looks drawn, and it appears that she may have dropped the dramatic amount of weight through less-than-healthy means," Hunter claims. "Her arms and legs don't look especially toned, and the fact that she shrunk pretty rapidly is indicative of a crash diet of sorts."
"She may be dabbling with the HCG diet, which is very restrictive, consisting of only about 500 calories a day and injections for appetite suppression," Hunter says. "Or Atkins taken to an extreme, or even straight-up appetite suppressants to kill any desire for food."
Hunter continues, "While she's probably thrilled to have dropped the pounds, she'd be better serving her body if she upped her intake of lean proteins, healthy fats like olive oil, avocado and nuts, and started adding in toning exercises like barre of Pilates so she doesn't end up looking older rather than slim!"
What do you think of Aguilera's new look? Let us know in the comments!