Christina Aguilera Says She Feels 'Sexier Than Ever' -- And Looks The Part!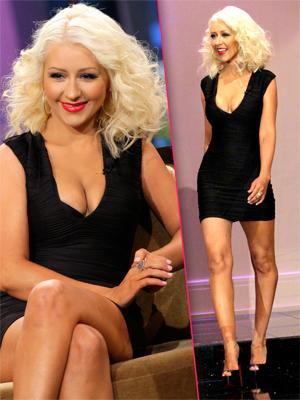 Christina Aguilera said she feels "sexier than ever" -- and certainly backed it up, looking foxy in a sleek black dress -- appearing on Wednesday's edition of The Tonight Show to promote the upcoming season of The Voice.
"For me, I'm an artist and expressing myself in a sexual way -- no matter how that changes throughout the years -- is something that has always come naturally to me," the blonde beauty told host Jay Leno. "At this point of my life, I'm 32 and I feel sexier than ever because you know what you want."
Article continues below advertisement
The What A Girl Wants singer, who recently showed off her svelte form on Maxim's cover, said the photo shoot for the magazine "was all about appreciating the woman I've become and being effortlessly sexy, not trying too hard."
She expounded to Leno on a comment she made to the magazine, saying that the only place in her life that she's passive is, is "in the bedroom.
"I'm a big micromanager," she said. "I'm a stickler about organization, everything needs a place, a purpose and micromanaging myself even when I'm in the studio. So I think every woman should relax and allow herself to be pleased … it's the one place I can let go."
The Voice airs on NBC Mondays and Tuesdays at 8/7c.