Lie-Lo? Lindsay Lohan Intentionally Deceived Court With Request In Lawsuit, Attorney Claims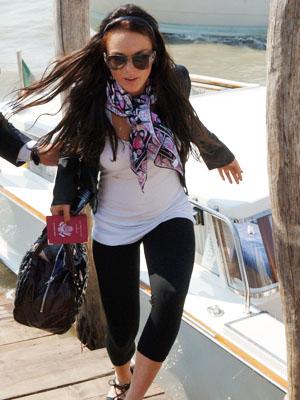 Lindsay Lohan knowingly lied in a court case tied to her defunct leggings line 6126, an attorney on the other side of the case claims in court docs, RadarOnline.com has learned.
The Mean Girls star and her partner in the failed venture, Kristi Kaylor, said that D.N.A.M. Apparel Industries, the company they're taking to court over a financial dispute related to a licensing agreement, had employed lawyer Adam Rossman, who had inside knowledge of their 6126 line, having worked with them on it.
Article continues below advertisement
Kaylor and Lohan requested the court discharge Rossman from the case, but the legal eagle isn't going down without a fight.
Rossman, in his retort to the court, denied any previous involvement with 6126 except for a one-off copyright lawsuit he worked on at a reduced rate. He said that denoting that 6126 didn't have law firm around 2009, the timeframe specified in the suit. He also cited two other legal entanglements between the involved companies in which his presence was never an issue.
He also took the chance to zing the fallen star for the lack of marketability she brought to the table, which he cited as the ultimate reason for the business relationship falling through.
"At the time, Lohan had become a fashion icon, even designing a line for Emanuel Ungaro, a famous French fashion brand," Rossman wrote in court docs of her initial inking in 2009.
But in 2010, Rossman wrote, "Ms. Lohan's legal troubles began to grow and the 6126 brand quickly began to lose its luster until the point where none of the major department stores were willing to purchase the brand because none of them wanted to be associated with Ms. Lohan's current image."
With Lohan's tattered image essentially causing the hammer to drop on the business project, D.N.A.M. looked to modify the deal, but Lohan and Kaylor declined, not acknowledging any wrongdoing on their part.
The case returns to court May 1 in Los Angeles.
Stay with RadarOnline.com for more LiLo news as it breaks.