In The Desert & Off The Wagon: With Band Of Enablers In Tow, Lindsay Lohan Spotted Boozing At Coachella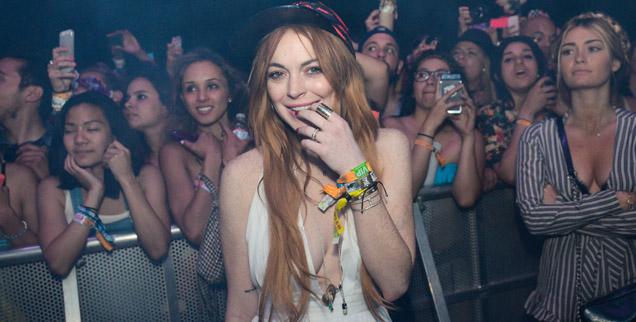 Lindsay Lohan's inability to keep her promises and stay sober remains the safest bet in show biz.
Eight months out of rehab, and just days after telling David Letterman "she's really good" and clean and sober, the 27-year-old tabloid queen was witnessed indulging in vodka at the Coachella Music Festival in Indio, Calif.
A spy told InTouch that the actress, whose self-destructive tendencies have been well-chronicled on her OWN reality show (as well as RadarOnline.com), "looked completely out of it" while mingling with her sister Ali, 20, and others following Kid Cudi's set.
Article continues below advertisement
"She couldn't stand up straight and she was frantically chain smoking cigarettes," the witness said. "In one of her hands she had a plastic cup with a clear liquid in it."
Despite her well-chronicled battles with the bottle, the Mean Girls star's running mates were apparently more than happy to enable the boozing, according to the source.
"The group of Lohan and her pals were standing in a small cabana, booth-type thing and one of the friends was making regular trips to the bar. I overheard the friend order four vodka sodas and when he carried them back to the group," the source said. "He handed one to Lindsay and she started drinking it.
"She didn't seem to care who saw and none of the group seemed concerned."
As we previously reported, Lohan's OWN docudrama has heavily focused on The Canyons star's career resurgence following her release from a Malibu rehab facility last summer, though a recent episode illustrated the ongoing demons she's been battling have yet to be fully silence, as she imbibed on wine.
Stay with RadarOnline.com for more LiLo news as it breaks.