Exclusive
The Drama Never Ends: Lindsay Lohan Begs A Judge To Disqualify Lawyer In Bitter Lawsuit Stemming From Her Wild Partying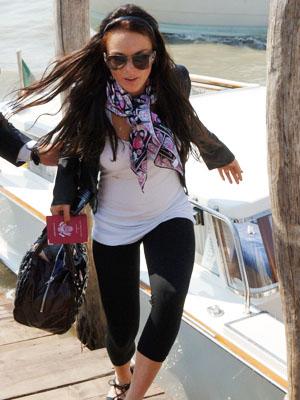 Lindsay Lohan is headed back to court, but RadarOnline.com has exclusively learned, this time the fiery red-head is (surprisingly!) not headed to jail or rehab. Instead, the 27-year-old is fighting back against charges that she ruined her fashion business with her wild partying ways!
The OWN docu-drama star and troubled actress is involved in a bitter lawsuit between her clothing line, 6126, the company that licensed the trademark for the brand, D.N.A.M. Apparel Industries. Together, in better times, Lohan and the manufacturer were producing a line of high-end leggings.
Article continues below advertisement
Now, in document obtained exclusively by RadarOnline.com, it's alleged that Lohan "caused the clothing line to fail allegedly because she experienced personal and legal problems that were well reported in the press and, for that reason, the guaranteed payments were never made to 6126."
Despite a "morals clause" being standard practice for Hollywood contracts, Lohan's business partner admitted in the filing that no such clause existed in this business deal!
Article continues below advertisement
"There is however, no so called 'morals clause' in the license agreement. Thus, any information or testimony related to the claim that Ms. Lohan's personal conduct damaged the brand is entirely irrelevant," it's said.
In turn, Lohan and Kaylor want a judge to toss one of D.N.A.M.'s lawyers off the case, claiming that one attorney, Adam Rossman, has a conflict of interest. He previously was involved in legal work with D.N.A.M. and 6126 and was privy to their confidential secrets and therefore should be disqualified from the case.
According to the documents, Mean Girls star Lohan and her partner want Rossman disqualified.
The case is currently scheduled to be heard in front of the judge on May 1 in Los Angeles.